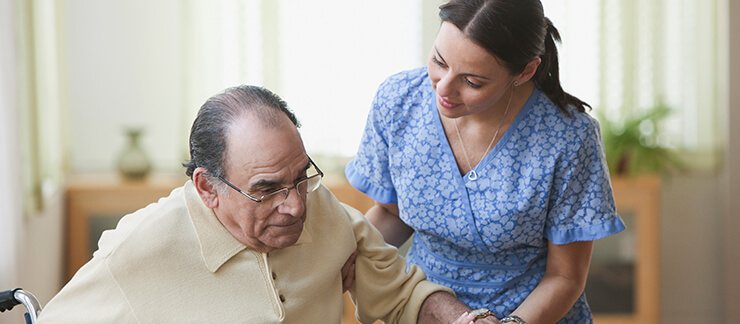 Why Visiting Angels Takes a Holistic Approach to Palliative Care Services
When we started our Certified Palliative Care program, we took a broader, more holistic approach to palliative care services. This has set Visiting Angels® apart from other palliative care providers.
Today, most people think that palliative care is only provided in cases of terminal illness, offering relief from physical symptoms of disease. But historically, palliative care has not been limited to terminal illness or physical symptoms. Rather, it's been available to care recipients of any life expectancy. What's more, palliative care is not limited to physical symptoms. In fact, it can be used to address a wide range of physical and non-physical care needs, including a person's emotional, social, and spiritual well-being.
We've based our Certified Palliative Care program on this understanding of palliative care services. Rather than focus strictly on physical concerns, we strive to provide care and comfort in a holistic manner.
Our Unique Approach to Palliative Care Services
At Visiting Angels, we take a unique approach to palliative care services. Most people think that palliative care as another term for end of life care. But there's a key distinction between these two types of care.
While end of life care is for individuals with terminal conditions, palliative care is a philosophy of care that's primarily focused on the recipient's comfort. These two types of care can be and are often provided in conjunction with one another, with palliative care used to minimize the pain and discomfort of terminal illness. This is why many people conflate end of life care and palliative care services.
But at Visiting Angels, we continue to treat palliative care as a distinct type of care. Our Certified Palliative Care program is offered to individuals in need of comfort-focused care, regardless of life expectancy. We also operate with a broader definition of palliative care, one that goes beyond physical pain and discomfort to provide a more holistic style of care.
Emotional, Social & Spiritual Aspects of Care
Within the home care industry, many caregivers approach their work with a narrow focus. Their clients suffer from physical difficulties, like poor mobility, reduced strength, or chronic aches and pains. In response, caregivers focus on physical assistance. In doing so, they often neglect emotional, social, and spiritual aspects of care.
In neglecting these other aspects of care, they fail to address some of their clients' most pressing needs. Age, physical disability, and chronic health conditions can devastate a person's emotional well-being, disrupt their social life, or leave them feeling less-than-whole on a spiritual level. By only addressing a person's physical care needs, caregivers can fail to impact a client's overall quality of life.
When we created our Certified Palliative Care program, we wanted to solve this issue. To do this, we built our program around a more holistic approach. Rather than focus solely on physical aspects of care, this program educates caregivers about the emotional, social, and spiritual side of caregiving.
With this approach, our palliative care services still address physical needs. But at the same time, our caregivers can address a wider scope of care needs, helping care recipients find inner comfort and achieve a higher quality of life.
Holistic Palliative Care Services in Practice
Our unique approach to palliative care services is best understood in practice. To demonstrate how our approach addresses different types of care needs, here are four examples of how our caregivers improve comfort and quality of life for care recipients.
If a care recipient suffers from limited mobility, reduced strength, or chronic pain our caregivers can provide mobility assistance, perform day-to-day tasks, or keep the care recipient in comfortable surroundings.
Should the care recipient exhibit signs of depression, loneliness, stress, or anxiety, our caregivers adopt a warm and compassionate approach that accommodates these feelings, rather than ignoring them.
In cases where disability or illness interfere with a care recipient's social life, our caregivers are there to provide companionship and conversation. We can also help care recipients connect with friends and family by assisting with in-person visits, phone calls, or digital communications.
Our palliative caregivers approach every client with dignity and respect, helping them maintain inner strength and navigate the spiritual challenges of age, disability, and illness.
To learn more about our unique approach to palliative care services and request a free in-home consultation, contact your local Visiting Angels office today.