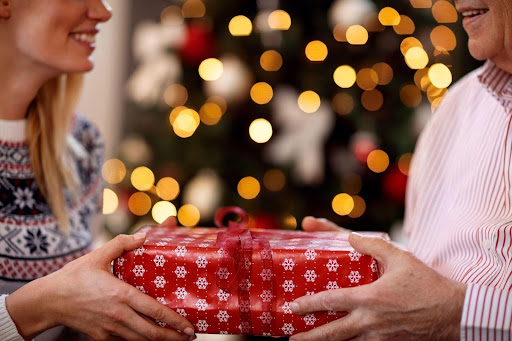 Holiday Gifts for Seniors
If you feel like the holidays fell upon us with no warning this year, you're not the only one. Sometimes life gets ahead of us, and we leave the holiday shopping days before the big event. But even if you only have a few days to find the perfect gift, there's still plenty of time to get something special for the senior in your life.
Gift Ideas for Seniors
Finding the perfect gift for the beloved seniors in your life doesn't need to be stressful. If you are looking for a last-minute gift, you can't go wrong with one of these options.
Photobook. Get in touch with your creative side and make a photo book for your loved one. You can fill the book with old photos of them when they were younger and mix in some current family portraits. If a few images are unique to your loved one, create a large canvas picture or customized frames online through a service such as Shutterfly or Snapfish.
Non-Slip shoes and slippers. Many seniors fall in the home because they are not wearing the right shoes. Keep your loved one safe at home with a pair of non-slip slippers or shoes. Find footwear with a sturdy back instead of slip-on styles. Also, be sure the shoe fits properly and is not too snug or loose.
Household services. Taking care of a home takes a lot of energy, and it may not be realistic for our loved ones to maintain. Take some of the workloads off your aging relative by hiring a housekeeper or lawn care service. If your loved one needs extra help with personal grooming or meal preparation, consider hiring an in-home caregiver.
Indoor garden. If your loved one enjoys gardening, consider an indoor garden. Indoor gardens range in size and are great for colder months when gardening outdoors is not ideal. Indoor spice gardens also make a great gift for seniors who enjoy cooking, so they'll always have fresh herbs in their kitchen. Don't forget the seeds and other gardening tools they may need.
Accessible household items. Some tasks become harder with age. Consider gifting your loved one a household item to help with their daily routine. You can install a bath railing to help them get in and out of the shower or a shower seat to reduce bathroom injuries. Additional gifts could include shoe horns or dressing sticks, easy-grip kitchen utensils, or a power lift recliner to ease the transition from sitting to standing.
Voice-activated devices. Voice-active devices such as a Google Home or Amazon Echo are great for seniors because it consolidates technology devices such as phones and television remotes. These devices also provide a layer of safety for seniors living alone. In case of a fall or emergency, seniors can use a voice-activated device to call for help.
Quality time. Sometimes, the best gift is quality time. Plan something fun for the two of you to do together. You can pick out a new recipe to cook, complete a puzzle or do a craft. You can also put together a day outside the home with a nice meal out or see a new movie at a nearby theater.
Working with Visiting Angels
If you need help caring for an aging loved one this holiday season, the team at Visiting Angels can help. We have a fantastic team of trained caregivers who can help seniors with light housekeeping, meal preparations, medications reminders, personal grooming, mobility assistance, transportation, and more. Our Aiken office serves those in Aiken, North August, Graniteville, Warrenville, Beech Island, and the surrounding areas. If you'd like to learn more about our services, you can complete this online form or call us at 803.335.3660.