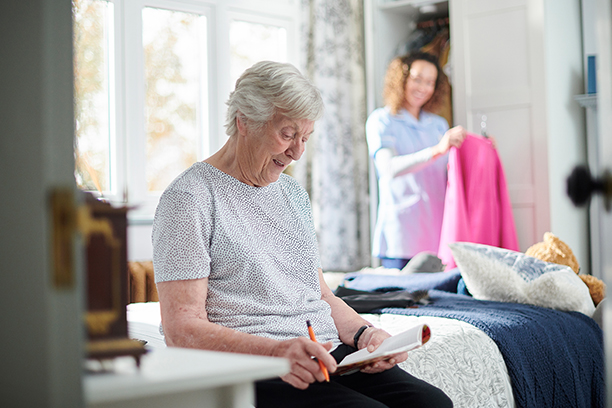 Parkinson's Care in Alameda, CA
Discover Parkinson's Care for Seniors in Alameda, CA & Surrounding Areas
Leading Parkinson's care is provided by our professionals at Visiting Angels of Alameda, CA, and surrounding areas. Our caregivers are compassionate and caring individuals who will help your senior complete their daily tasks around the home, grooming, mobility, and are a source of support. See how our services can help your loved one today.
Parkinson's Disease and Seniors
Parkinson's disease is a progressive disorder that effects the central nervous system. It occurs in stages, effecting a senior's mobility, motor control, and causes reoccurring tremors. These challenges can make daily tasks near impossible without any assistance. To learn how to recognize these symptoms, there are a few that develop slowly at first but become more noticeable as the disease progresses.
Depression
Mobility and Balance Challenges
Slowed Movement.
Insomnia or other sleeping disorders.
Recurring Tremors
Not in all cases, but higher stages of Parkinson's disease can increase a senior's risk for developing dementia.
Discover Parkinson's Care Visiting Angels of Alameda, CA
Specialized and personalized care is at the core of what our caregivers provide at Visiting Angels of Alameda, CA. We are here to help your senior with daily tasks and personal grooming to make their day-to-day life easier and more possible with our help. Our caregivers help with the following but are not limited to:
Prepare Meals and Feeding Assistance
Light Housekeeping
Toileting and Incontinence Care
Transferring and Positioning
Mobility Assistance
Transportation to Appointments
Grooming and Hygiene Assistance
Provide Medication Reminders
These above tasks are one of the many our caregivers can provide. Our Parkinson's care services are completely customizable to your senior's needs and preferences.
Discover the benefits of Parkinson's care for your loved one at Visiting Angels of Alameda, CA today. We are here to help your loved one not only in their physical health, but with their mental and emotional health as well. We get to know your loved one so we can provide our top-quality care.
Contact Visiting Angels of Alameda, CA
Give us a call at Visiting Angels of Alameda, CA to schedule your at home consultation today. Contact us to start creating your senior care plan with our senior care resources.
Serving Alameda, Oakland, Piedmont, Berkeley and Surrounding Communities
Visiting Angels
ALAMEDA, CA
2447 Santa Clara Ave #300B
Alameda, CA 94501
Phone: 510-269-2999
Fax: 510-269-2651