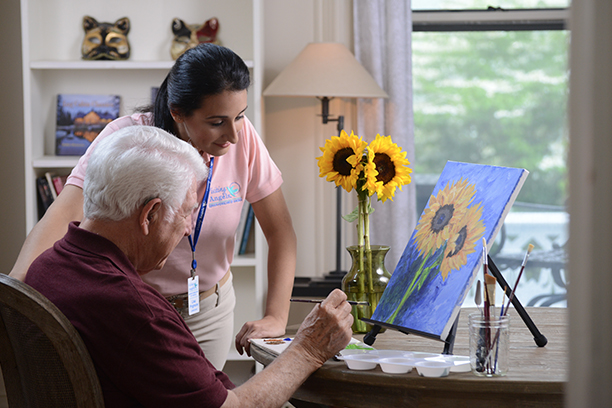 Albuquerque's Trusted Caregivers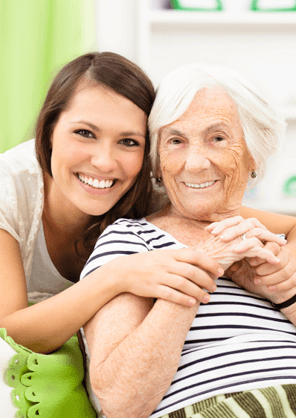 As the Albuquerque area's trusted caregiver agency, Visiting Angels Albuquerque is relied on by countless New Mexico families. In turn, we're committed to providing New Mexico seniors and disabled individuals with the best care we have to offer.
That commitment starts with our caregivers, a team of compassionate, skilled, and knowledgeable professionals who are always willing to go the extra mile for those in their care. We make it possible for seniors to age in place comfortably and safely, helping avoid or delay the move to facility living.
What "Care" Means to Our Caregivers in Albuquerque
At Visiting Angels Albuquerque, we know that age and disability can take their toll in a number of ways. While other care agencies focus solely on the physical care needs of their clients, our caregivers practice a model of care that goes further, helping manage our client's physical, mental, and emotional needs. Whether your loved one is coping with mobility issues, frailty, a chronic or degenerative condition, a memory disorder, the effects of senior isolation, or a combination of the above, we can help.
Our Caregivers' Skills & Experience
Quality care begins with quality caregivers. At Visiting Angels Albuquerque, our caregivers are our biggest and most important investment. When hiring new caregivers for our agency, we focus on three key qualities: compassion, skill, and experience. We give preference to candidates who have spent two or more years in a caregiving setting and we put each candidate through a rigorous reference and background check to ensure they exemplify our values.
Compassionate Care for Albuquerque Seniors
There's no value more central to the Visiting Angels Albuquerque mission than compassion. It's something our caregivers bring to their work every day, treating those in our care with the kindness and dignity they deserve. We believe in treating our clients with the same level of respect, sympathy, and gentleness that we would offer our own family members.
Choosing Your Loved One's Caregiver
The relationship between your loved one and his or her caregiver is an important part of any successful care program. At Visiting Angels Albuquerque, we encourage the right fit between our caregivers and their clients by having you and your loved one choose your caregiver. We will suggest those whose skills, personality, and experience seem like a good fit for your loved one, coordinate a meeting in the comfort of your loved one's home, then give you the final say on who provides care for your loved one.
Call Visiting Angels Albuquerque today for your free care consultation. Our caregivers serve seniors and disabled individuals in Albuquerque, Rio Rancho, Los Lunas, Edgewood, Bernalillo, Placitas, and Los Ranchos.
Serving Albuquerque, Rio Rancho and Surrounding Areas
Visiting Angels
ALBUQUERQUE, NM
3411 Candelaria Blvd NE #A
Albuquerque, NM 87107
Phone: 505-821-7500