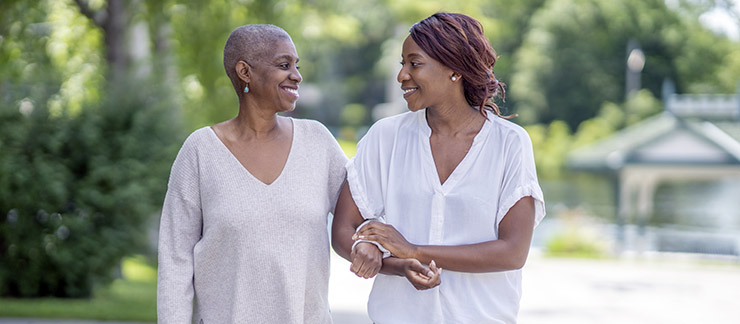 4 Ways Home Care Can Provide Summertime Relief
The summer months are perfect for backyard barbecues, trips to the beach, vacations, and other outdoor activities with family and friends. However, if you are caring for an older adult, you may sometimes feel your summertime plans need to be put on the back burner.
You don't have to sacrifice your fun in the sun.
When to Hire Summertime Home Care for Seniors
Visiting Angels' in-home caregivers can help you keep your summertime commitments while ensuring your senior loved one receives the care and companionship they need.
Here are a few reasons you may want to consider professional senior care from Visiting Angels during the summer:
You Are Going on Vacation
Summer excursions are fantastic opportunities to relax and recharge, but it's not always possible for an older adult to travel with you. If you are traveling out of town, Visiting Angels can provide compassionate and dedicated respite care for your loved one while you enjoy a worry-free vacation.
You Have Additional Childcare Responsibilities
When school dismisses for the summer, many parents find themselves chauffeuring children to camps, sports, summer jobs, and friends' houses. These errands may mean fewer available hours to care for an older loved one. A Visiting Angels' caregiver can extend the bandwidth you need to manage extra childcare responsibilities.
Your Loved One Wants to Get Outside
Visiting Angels' caregivers can help seniors safely enjoy their favorite outdoor activities – whether taking a walk, planting vegetables in the garden, visiting the park, or simply sitting in the sun. Our caregivers can preserve your loved one's sense of independence by giving them the freedom to pursue their interests and hobbies while being on hand to assist when asked.
You Want to Keep Your Loved One Safe in the Summer Heat
As we age, our bodies aren't able to recognize or handle sweltering hot temperatures as well as when we were younger, placing older adults at a higher risk of developing heat-related illnesses. A Visiting Angels' caregiver can ensure your senior's home is at a safe temperature and help them remain hydrated and dressed appropriately for the weather.
If you need a Visiting Angels' caregiver for a vacation, short stint, or on an ongoing basis, our caregivers can accommodate your schedule and meet your loved one's needs. To learn more about how our caregivers can assist this summer and beyond, contact your Visiting Angels' local home care office to schedule a no-cost, no-obligation, in-home consultation.