Home Care Services in Northern Orange County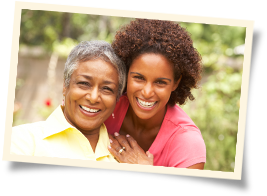 If your family is weighing the options between care at home versus nursing home, make sure you have as much information as possible. At Visiting Angels® Anaheim, we've been providing home care services to aging adults in Northern Orange County for over 20 years.
Quality, caring, and compassionate home care services like ours:
Are more affordable than nursing homes. By targeting and customizing our services, you only pay for what you need, when you need it.
Provide a sense of constancy and familiarity. Maintaining their sense of familiarity is the main reason aging adults resist change. Familiarity is comforting and helps us feel secure.
Are customized and personalized to suit the specific needs of your loved one.
Provide a greater quality of life. When seniors receive quality one-on-one attention, assistance, and encouragement from our caring and compassionate caregivers --all while still retaining the ability to remain at home, their quality of life is greatly improved.
Give families and loved one's peace of mind. Our local Northern Orange County team will be available to answer your loved one's call 24/7, should the need arise. Additionally, our friendly administrator will regularly check in with them to ensure their continued satisfaction. Of course, we'll also provide you with regular updates about your loved one's health and well-being.
Of course, your family's circumstances are unique. This is also too important of a decision to make without professional guidance. That's why we offer a free, no-obligation consultation. We will meet with you and your loved one, in the comfort of their own home to review your situation, answer your questions, and make customized recommendations for a home care services plan.
Home Care Services Available in Northern Orange County
At Visiting Angels Anaheim we offer a wide range of services and assistance, such as:
Bathing & dressing
Errands
Mobility and/or neighborhood walks
Light housekeeping
Transportation to appointments
Meal prep
Medication reminders
Upbeat, understanding companionship
And much more
At Visiting Angels Anaheim, we are sincerely honored to provide our home care services to aging adults in the following nearby neighborhoods:
Northern Orange County
Anaheim
Santa Ana
Orange
And the surrounding area
Schedule Your Free Consultation
If you'd like more information about our home care services in Northern Orange County or if you'd like to schedule an appointment for a free consultation, please reach out to Visiting Angels Anaheim today!