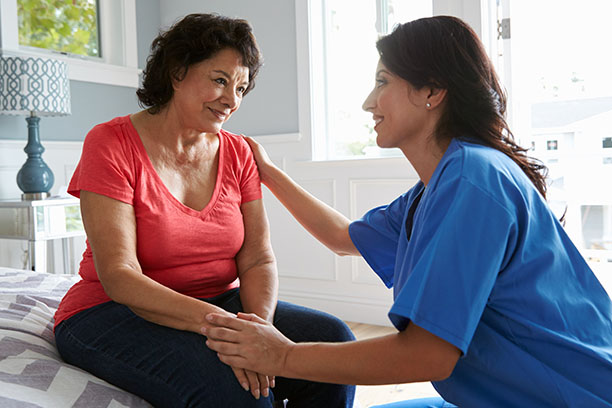 Dementia Care in Anaheim
Do you have a loved one who has recently been diagnosed with dementia? If so, you may have many questions regarding your loved one's illness and the best way to keep them safe while allowing them to maintain their dignity. Visiting Angels® Anaheim can help. We offer professional dementia care services to seniors in Anaheim, Santa Ana, and throughout Northern Orange County. We can help bring your family peace of mind by caring for your loved one in the comfort of their own home. Dementia care from Visiting Angels Anaheim can provide one-on-one care and attention to your loved one without requiring a traumatic move to a nursing facility.
Dementia care from Visiting Angels Anaheim is provided by skilled professionals. Our dedicated caregivers know how to provide your loved one with the care they need while simultaneously helping them preserve their dignity. Home care providers from Visiting Angels Anaheim know how to put their clients at ease and are adept at handling the ups and downs of day to day memory care.
How Aging in Place Helps Those with Dementia
While all seniors can benefit from the perks of living at home, for those with memory-based disorders, remaining at home is even more important. That's because they already have a great deal of stress and confusion to deal with as a result of their affliction. The move to a senior care facility presents a new and additional challenge. On the other hand, remaining at home allows them to maintain crucial familiarity and privacy as they deal with the effects of dementia.
At Visiting Angels Anaheim, we believe that an extended home life is the right option for your loved one. With our direct, one-on-one support, they'll have all the help they need to maintain a safe and comfortable living situation in their own private residence. This privacy will allow them to deal with their affliction in a more dignified setting where they can enjoy reduced confusion and anxiety.
One-On-One Support From Fully-Vetted Caregivers
In order to provide the support your loved one deserves, we take great care to make sure we hire the right people. With our vetting process for future caregivers, we rely on background and reference checks to make sure every person we select is right for the role. We value strong character traits such as integrity and honesty. We also select people who are empathetic, dependable, and committed to helping others.
As a result of our careful selection process, you can always count on our caregivers to provide warmhearted, respectful, and loving support that matches the care provided by members of your own family.
A Crucial Respite for Your Family
With customized in-home assistance from one of our fully-vetted caregivers, your loved one will have all the help they need to cope with their dementia in the privacy and peace of their own home. As a result, you'll have the opportunity to take time away as you need. This will allow you to avoid caregiver burnout, maintain other aspects of your life, and provide your loved one with a healthier living situation.
As an added benefit of our dementia care, you and your family will also have more free time to have fun and just hang out with your loved one in the Anaheim area, instead of simply worrying about their home care needs 24/7. We aim to create a sustainable situation for your entire family, and look forward to working with you to develop the right care plan and schedule.
About Our Dementia Care Services From Visiting Angels Anaheim
When caring for someone who lives with dementia, there are many things to consider. First and foremost, the safety of the care recipient is a top priority. Providing aid with tasks such as meal preparation, fall prevention, transportation, bathing, and more can all help seniors avoid accidents and injury. At Visiting Angels Anaheim, we can also provide medication monitoring as part of our dementia care to help avoid missing or doubling up on doses. Seniors who live with dementia may also be subject to mood swings and irrational behaviors. Dementia care professionals from Visiting Angels Anaheim know how to approach these challenging situations with compassion.
When you choose dementia care services from Visiting Angels Anaheim, you will be able to schedule services based on your loved one's current needs. Because dementia is a progressive illness, you will be able to make adjustments to their care as needed during the course of their illness. Visiting Angels Anaheim has care professionals on staff at all hours, day and night, to ensure our clients are never left without the care they need. As part of your initial consultation, we will go over your scheduling requirements and match you with a caregiver who is available during those times.
Call Visiting Angels Anaheim today to learn more about our dementia care and how it can help your family.
Serving Northern Orange County Including Anaheim, Orange & Santa Ana
Visiting Angels
ANAHEIM, CA
1020 S Anaheim Blvd #205
Anaheim, CA 92805
Phone: 714-927-3222
HCO# 304700198