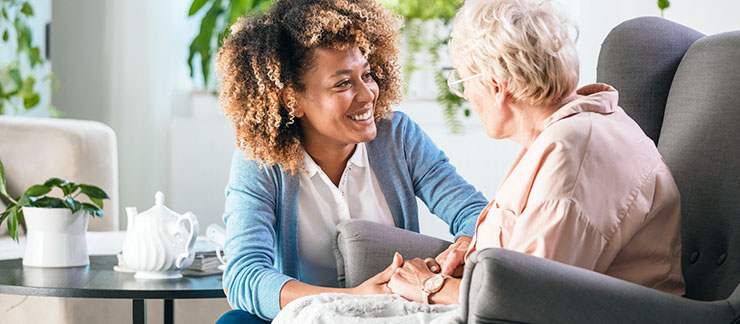 Why Every Family Needs a Respite Care Plan
As a primary caregiver for a senior loved one, you may sometimes feel drained and exhausted. Like most family members, you probably never expected to be a caregiver for an older loved one and did not imagine the challenges.
Caregiving responsibilities can be demanding on your physical and emotional well-being. Carving out time for yourself can seem impossible, especially with the added demands of family and work life.
Fortunately, professional respite care is an excellent resource for times when you need a much-needed break or a breather.
Why is Respite Care Important?
Respite care is temporary, short-term assistance to support your loved one at home while you work, travel, manage other responsibilities, or handle personal tasks. Respite care can provide essential relief from the stresses of caregiving — so you can focus on yourself.
A respite care plan can continue your senior's desire to age in place at home when you need coverage for an unexpected event, a vacation or out-of-town work trip, or even just a pause from your regular caregiving routine.
While caring for an older adult is a rewarding job, it can also be arduous. Taking breaks from your senior care duties is essential for your physical and mental health.
In fact, family members responsible for senior care are at a higher risk of caregiver burnout, which can cause depression, anxiety, and fatigue.
A respite care plan can give you time to relax, refresh, and attend to your personal needs before you experience caregiver burnout. Routine respite care can improve your resilience, energy levels, and balance between various aspects of your life — so you can continue to support your loved one.
Unfortunately, many primary caregivers wait until they are exhausted and overwhelmed to investigate respite care options. The best time to establish a respite care plan is before these feelings begin.
Planning for respite care allows you and your loved one to research multiple options, including other adult day care, assisted-living facilities, or in-home care. Understanding your options in advance will give you time to make the best choice for your loved one and budget.
What Are the Advantages of In-Home Respite Care?
In-home respite care can be a fantastic option for older adults who want to age in familiar surroundings.
While adult day care and assisted living facilities provide on-site respite care, they entail your senior to leave home. Unfamiliar surroundings can be stressful and tiring for older adults. In addition, some centers do not provide transportation and may require seniors to attend a certain number of days or hours per week on an ongoing basis.
When you choose in-home care from Visiting Angels, a professional caregiver will come to your loved one's home and provide personalized and compassionate care tailored to their unique needs.
Visiting Angels offers flexible scheduling options that range from a few hours to 24/7 care and can be scheduled a few times a year or on a recurring basis. An established relationship with a Visiting Angels respite care professional can make it easier for you and your loved one if you experience an event or emergency requiring you to change your loved one's care schedule.
CONTACT US today to learn more about our helpful respite home care services.