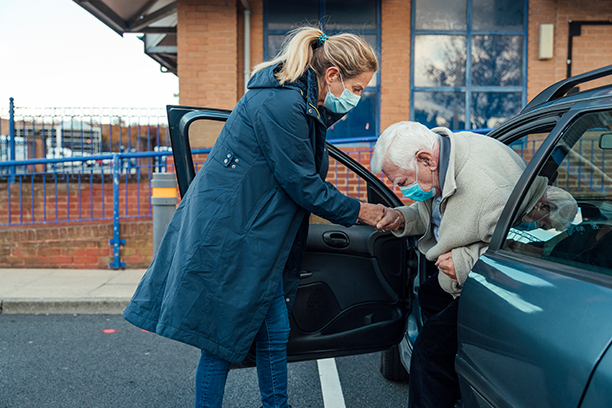 What You Need to Know About Your Options for Alzheimer's Care in Annapolis, MD and Surrounding Areas
By understanding the signs of Alzheimer's and care options for seniors in Annapolis, Millersville, Pasadena, Glen Burnie and Arnold, MD, you or a companion caregiver can work toward the best Alzheimer's care solution for your loved one
Support is the most important thing when caring for someone, especially someone with Alzheimer's disease. There is approximately as many as 5.1 million Americans that have Alzheimer's disease, according to the Alzheimer's Foundation of America. Alzheimer's causes a slow decline in thinking and reasoning skills, it also causes memory lapses. Alzheimer's is described as a fatal brain disease and a diagnosis of this can be devastating and frightening. It can affect not only the person carrying the disease, but also their friends and family.
While there is currently no cure for Alzheimer's, there are therapies and treatments that can help improve the quality of life for everyone suffering from the disease. These treatments can help slow down the worsening of symptoms of dementia. It is extremely vital to take your loved ones to see their physician if you suspect that they are showing symptoms of Alzheimer's. Take them to the physicians to get a diagnosis and an care plan set as early as possible. Visiting Angels Annapolis can help manage your loved one's symptoms through the support of a quality companion caregiver.
What Are Some Signs a Loved One Has Alzheimer's?
Your loved one may need professional Alzheimer's care if they have issues with:
Memory loss that causes disruption to daily life and changes in personality and mood
Anxiety, depression, persistent mood swings and disinterest in usual activities
Poor judgement, including issues with hygiene and grooming
Misplacing things
Inability to retrace steps
Difficulty with spatial relationships and visual images
Development of problems with speaking and writing
Difficulties with solving problems and completing tasks at home and at work
Getting time and place confused
What Are My Options for Alzheimer's Care in Annapolis and Surrounding Communities?
If your loved one is displaying any of the mentioned warning signs, it is important to get them evaluated by a physician. It is vital to remember that Alzheimer's and dementia are not part of the normal aging process and should not be mistaken as a regular part of aging. Basic forgetfulness does occur when aging, but with Alzheimer's, these symptoms are way more severe and gradually becomes more persistent.
It is important to educate yourself about the disease in order to be able to take care of your loved ones. You should build a support system for your loved one that they can use to cope and relieve their stress. Care facilities have dementia care specialists that are qualified to care for your loved ones. A companion caregiver from Visiting Angels can also provide quality in-home care for your loved one.
To learn more about how Alzheimer's care from a companion caregiver from Visiting Angels Annapolis can help your loved one, contact our Millersville, MD office at 410-587-2316. We're here for you!
Serving Northern Anne Arundel County in Maryland, including Annapolis, Glen Burnie, Millersville, Pasadena, Crownsville, Arnold and Severna Park
Visiting Angels
ANNAPOLIS, MD
8338 Veterans Hwy #103A
Millersville, MD 21108
Phone: 410-587-2316
Fax: 410-549-2909