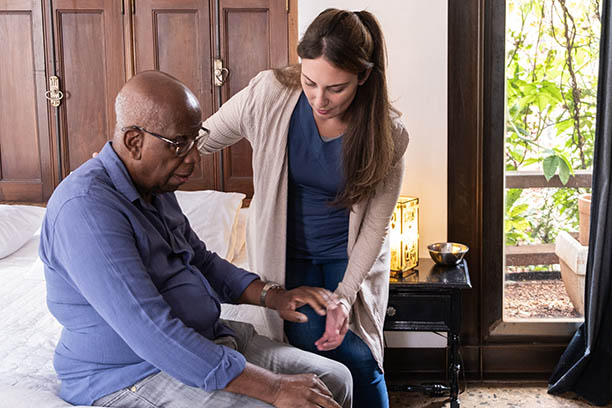 Comforting Palliative Care in Annapolis, MD and Nearby Areas
Taking care of an elderly loved one can be challenging, especially if they have a chronic illness, long-term health issue, advanced age-related difficulties, or anything else that would warrant needing specialized comfort and support. This is the reason why seeking personalized in-home palliative care services for your loved one is very important.
If you are in need of professional and comforting in-home care for your loved one, count on Visiting Angels Annapolis. Since 2002, we've focused on improving the quality of life of our clients in Annapolis, Millersville, Pasadena, Arnold, Glen Burnie and throughout Northern Anne Arundel County, MD, by providing personalized and compassionate palliative care.
Call 410-505-5141 to learn how we can help your senior loved one!
How Can Palliative Care Provide Comfort for Annapolis-Area Seniors?
At Visiting Angels Annapolis, we train our caregivers with a philosophy of care that focuses on providing palliative care services that are supportive, holistic and comforting.
We design care plans with a mission to provide hope and healing to our clients. Part of our mission is to provide the following services:
Physical care: We recognize and respond to signs of discomfort so that we can provide the right care to our elderly clients.


Emotional care: We provide compassionate care to elderly clients who are suffering from depression, anxiety, loneliness or stress.


Social needs: We help build relationships with our clients and their family by providing friendly companionship.


Spiritual needs: We help restore hope and peace of mind to their lives so that they can find comfort amidst difficulties.
Your loved one will benefit from the comprehensive, one-on-one home care services provided by our caregivers in so many ways. Best of all, our care plans are flexible, so we'll be there when your loved one needs us most.
What's the Difference Between Palliative Care and Hospice Care?
In most cases, palliative care and hospice care are virtually interchangeable. But while both have the same goal – to provide relief from discomfort and improve the overall quality by focusing on the physical, emotional, spiritual and social needs of clients – hospice care is often given to people who are nearing the end of life. Palliative services can be given to anyone who needs comfort, regardless of life expectancy.
At Visiting Angels Annapolis, we focus on providing comfort and restoring hope for our clients throughout Northern Anne Arundel County. Although we do not provide hospice care, our end of life care services can provide compassionate support for seniors and families should your loved one's condition reach the point where they're entering the end of life process. Our caregivers can work alongside hospice care providers in order to give your loved one the comprehensive support they deserve during such a difficult time.
How Can I Get Started with Palliative Care from Visiting Angels Annapolis?
If palliative care sounds like just what your elderly loved one needs, contact Visiting Angels Annapolis today so that we can assign you to a care coordinator who will be able to give you an in-home visit and help you understand how we can comfort and support your loved one.
Contact our Millersville, MD office at 410-505-5141 to learn how our palliative services can help your loved one.
Serving Northern Anne Arundel County in Maryland, including Annapolis, Glen Burnie, Millersville, Pasadena, Crownsville, Arnold and Severna Park
Visiting Angels
ANNAPOLIS, MD
8338 Veterans Hwy #103A
Millersville, MD 21108
Phone: 410-505-5141
Fax: 410-549-2909