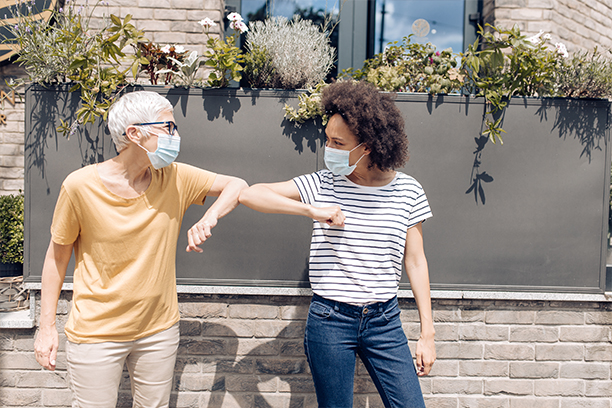 Chronic Illness Support for Seniors in and Around Annapolis, MD
When a senior loved one is diagnosed with an age-related chronic illness, enabling them to continue living independently at home may not be as simple as you thought. On the other hand, moving them to an assisted living facility is not the best option because they can easily remain at home and receive exceptional care from caregivers trained to work with such clients.
At Visiting Angels Annapolis, our in-home caregivers are committed to supporting seniors in Annapolis, Millersville, Pasadena, Arnold, Glen Burnie, and throughout Northern Anne Arundel County as they manage their chronic conditions so they can continue to remain at home for as long as they wish.
What Are Chronic Illnesses?
A chronic illness is any illness that lasts for a long period of time and is usually not curable. Most of these conditions put a strain on the patient's quality of life and make day-to-day functioning far more challenging. Arthritis, asthma, respiratory illnesses, diabetes, heart disease, cancer, and osteoporosis are some examples of chronic illnesses commonly seen in aging adults.
Unfortunately, when seniors develop a chronic illness, oftentimes the care they receive from a family caregiver is no longer sufficient for them to continue living independently at home. At Visiting Angels Annapolis, our knowledgeable caregivers have the skills and the experience to help your Mom or Dad manage their chronic illness as best as they can.
How Can In-Home Caregivers from Visiting Angels Annapolis Help Seniors Manage Symptoms of Chronic Illnesses?
As all our services are personalized, those with chronic illnesses can expect a care plan focused on managing their specific condition and making life at home more comfortable.
This means that besides providing meaningful companionship, our in-home caregivers typically assist with:
When required, we can also deliver specialized in-home senior care services such as dementia and Alzheimer's care, certified palliative care, fall risk reduction, transitional care, and more.
At Visiting Angels Annapolis, our in-home caregivers aim to alleviate discomfort caused by the symptoms of chronic conditions, reduce the likelihood of health complications, and increase the overall well-being of those we care for. With the help of a caring professional, your loved one's daily life will be a little bit brighter and you will have peace of mind knowing they are cared for by loving home care experts from Visiting Angels Annapolis.
Get started with chronic illness support from Visiting Angels by calling our Millersville, MD office at 410-587-2316 to schedule your free consultation today. We look forward to working with you!
Serving Northern Anne Arundel County in Maryland, including Annapolis, Glen Burnie, Millersville, Pasadena, Crownsville, Arnold and Severna Park
Visiting Angels
ANNAPOLIS, MD
8338 Veterans Hwy #103A
Millersville, MD 21108
Phone: 410-587-2316
Fax: 410-549-2909