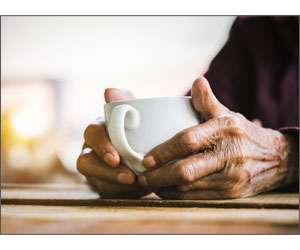 Practice Mindfulness With a Cup of Tea
At its core, mindfulness is the practice of being fully present and engaged in the current moment. Mindfulness has many health benefits for all who practice it. However, there are particular benefits specific to seniors. Mindfulness fosters stronger connections between the immune system and the brain, enabling the immune system to function more effectively. It reduces stress and blood pressure while boosting memory in older adults. Studies have even linked mindfulness to decreased feelings of loneliness in the senior population.
Practicing mindfulness doesn't need to be overwhelming or necessarily take a lot of time. In as little as five to ten minutes, seniors can incorporate mindfulness into their daily routines. If you're new to mindfulness and are hoping to improve your health this New Year, Visiting Angels Appleton is here to help. The steps below demonstrate how easy it is to practice mindfulness with a cup of tea.
Begin with the Kettle

Hot tea starts with a kettle. Whether you have an electric or stovetop kettle, begin your mindfulness practice by quieting your thoughts as you prepare the water. Turn your attention to the tea kettle. Notice the sounds the water makes as it begins to heat up. Watch intently for steam to appear from the spout and listen for the first hint of the kettle's whistle. Resist the temptation to tidy up the kitchen or scroll on your phone.
Select a Tea Bag

Once your water is hot, move to the next step of making a cup of tea, which is selecting a tea bag. Before you choose your favorite, pause to inhale the aroma of the tea bag. Notice what memories or feelings the smells may evoke. Pour the water into your tea cup. Gently unwrap your tea bag and place it in the cup. Watch as the water turns colors. As you wait for your tea to brew, keep your attention focused on the present moment. Notice what sounds you hear around you, what you see out your window, or what you're feeling right now. Once your tea has been brewed, remove the tea bag and add any sweeteners you prefer.
Linger as Your Drink
Now it's time to enjoy that cup of tea. Lift the tea cup and hold it in your hands. Feel the warmth of the cup in your hands and the steam on your nose. Close your eyes and inhale the aroma. Then, take a sip of your tea. Notice the different flavors of your tea. Ask yourself how it tastes—is it bitter? Too sweet? Lukewarm? Too hot? Just right? Linger as you enjoy your tea, refusing to rush this moment.
Stay Present
As you continue to sip your tea, focus on staying present. If you feel like giving up, identify the root cause. Are you annoyed or bored? Are you in a hurry? Recognize that it's normal for your mind to wander while you practice mindfulness. Each time that you take a sip of tea, bring your focus back to the present moment. With time, you'll train your mind to stay more present and focused.
Venture Out
The best part about practicing mindfulness is that it can be accomplished anywhere. If you're looking for a change, venture out and practice mindfulness at a local tea shop, such as Bubblelicious or Jasmine Leaf.
Fava Tea Company is a local loose tea company that offers hundreds of unique specialty teas. Visit their store to explore new tea flavors. Not into tea? This same practice can be applied as you sip your morning coffee. Explore ACOCA Coffee or Brewed Awakenings to change up your mindfulness coffee ritual.
Another way seniors can incorporate more mindfulness into their daily routines is to partner with Visiting Angels Appleton. We are a locally trusted resource for non-medical senior home care services. Our goal is to help seniors remain safe and independent in the comfort of their own homes. Our individualized home care plans can address nearly any non-medical care need, including dressing assistance, walking or transferring, meal planning and preparation, medication reminders, shopping, running errands, light housekeeping, and more. In addition, we offer social care, companion care, and specialized care for individuals with Alzheimer's or dementia. Let our compassionate caregivers help you stay focused on the present moment. To learn more, please contact us today by calling 920-944-8000.