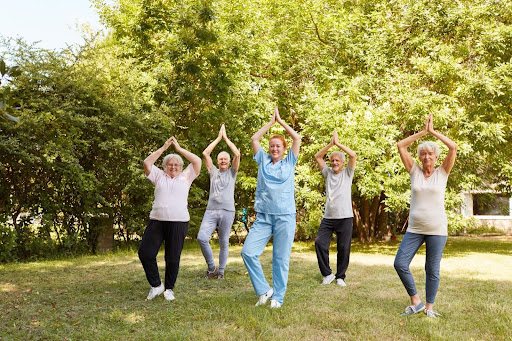 Practical Tips to Help Seniors Add More Movement to Their Day
Mobility issues are common among seniors, so it's vital for them to find ways to add more movement to their daily lives. Fortunately, with the right strategies and tools, they can make a few small changes that can significantly benefit their health.
Here are some practical tips to help seniors add more movement to their day.
1. Exercise in the Mornings
By knocking out their exercise routines in the morning, seniors won't have to worry about having enough energy for exercise later in the day. Instead, by scheduling their workouts for the morning, they can knock out their routine early.
A morning exercise routine can include the following:
Tai chi or yoga
Strength training with small weights or resistance bands
Stretching
Gardening or outdoor activities
Walking and biking
Outdoor activities like croquette or golf
Or, if your senior loved one has limited mobility, try chair exercises or exercises they can do while seated.
2. Join a Senior Center or Community Program
Joining a local senior center like Arlington Heights Senior Center, Inc. or a community program that offers activities such as walking groups, swimming classes, or dance classes can help seniors get the exercise they need. Look for programs that provide activities that can be modified to fit each individual's needs and interests.
The local library may also have programs that offer a variety of activities, including yoga and other senior-friendly workout classes.
3. Hire a home care provider
A professional caregiver can assist with daily activities such as bathing, dressing, and grooming, freeing up more time for movement and exercise. They can also encourage seniors to move around more and provide companionship while they do so. Companion care gives seniors motivation and support to help them stay active and engaged.
Likewise, having scheduled weekly meetings with family and friends can also increase their desire to stay busy. Loved ones can join seniors for a walk around the neighborhood or push them to pursue their favorite hobbies.
4. Ease into New Activities
Starting a different physical activity can be intimidating for seniors, so start slow and ease them into movement. Begin with light stretches and exercises that are comfortable for them, and gradually build up to more strenuous activities over time. You should also take breaks often and never push them beyond their limits.
If you try to force or push seniors into activities that are too much for them, they may become discouraged and give up. So check in with them frequently and adjust their workout routine as needed. A gentler approach ensures they get more movement throughout the day by safeguarding against burnout or injury.
Final Thoughts
For seniors needing to add more movement to their day, these tips are a great starting point. Start by trying out one or two activities and build up from there. Remember to frequently check in with them and communicate about how they are feeling and what works best for them. With the right support system in place, it's easy to keep seniors active and healthy.
At Visiting Angels Arlington Heights, IL, our professional caregivers provide seniors with support and encouragement to stay healthy, safe, and independent. Call 847-963-8944 or contact us online today to learn more about our home care services.