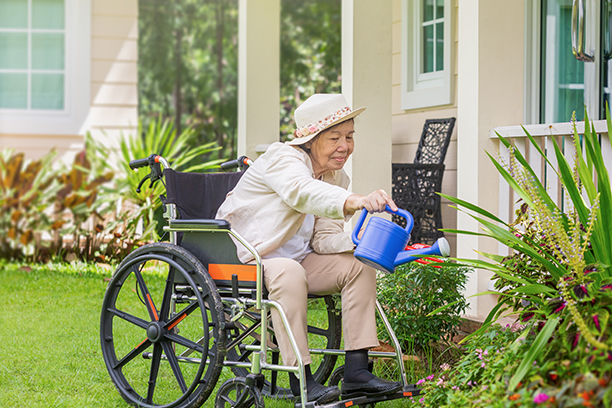 Caring for Someone with Alzheimer's in and Around Bethesda, MD
Finding out that a loved one has been diagnosed with Alzheimer's can be life-changing. It's important to learn about the options for Alzheimer's care for seniors in Aspen Hill, Silver Spring, Laurel, Bethesda and surrounding Maryland communities. Visiting Angels of Bethesda can help.
Recent statistics show that there are more than 5.1 million Americans who are suffering from Alzheimer's disease and other memory-related disorders. Having a family member diagnosed with such condition can be devastating to the entire family. But the reality is that you need to move forward, so you need to know how to cope up with the news so that you can start taking care of your loved ones.
What Are Common Symptoms of Alzheimer's?
There are warning signs that you need to be on the lookout to confirm your suspicion that your loved one is suffering from Alzheimer's disease. Below are important warning signs that you need to know.
Extreme memory loss that disrupts daily life
Challenges in solving simple problems
Difficulty in completing routine tasks
Confusion about time and place
Trouble understanding spatial relationships
Problems in speaking and writing
Inability to retrace steps
Poor judgment and decision-making
Withdrawal from social circle and activities
Changes in mood and personality
What Should I Do If My Loved One Is Diagnosed with Alzheimer's?
If your loved one is displaying any of these signs, then it is crucial that you have them evaluated by a neurologist so that they can be screened for Alzheimer's. Remember that Alzheimer's or dementia is not a normal facet of the aging process thus proper intervention can be made. Once your loved one is diagnosed, it is important that you educate yourself about the condition. It is also crucial to take care of the finances and other legal planning concerns of your loved ones as early as possible. Lastly, building a support system can also help. You don't only need the help of your friends and family but also caregivers who can provide professional care to your loved one.
While there is no known cure for Alzheimer's, there are therapies and treatments that can slow down its progression thus improve the quality of life of your loved ones. So, if you suspect your loved one of suffering from such condition, it is crucial that you get them to see a physician so that diagnosis can be made. Only then will you be briefed on your options for Alzheimer's care for seniors.
How Can Professional Alzheimer's Care for Seniors Help?
While many families choose to move loved ones into assisted care facilities after an Alzheimer's diagnosis, the reality is that living at home is often the better option. In-home memory care allows seniors to live in familiar surroundings, which is very important for those who have memory-related illnesses. But many families may not have the experience or time to provide the care their loved one will need to remain safe and comfortable.
That's why Visiting Angels of Bethesda offers comprehensive Alzheimer's care for seniors. Our caregivers have the experience and compassion needed to help your loved one with essential personal home care services, help them manage their symptoms and make sure they can live out their golden years in the comfort of their own home.

Learn more about your options for Alzheimer's home care by contacting our Bethesda, MD office today.


Serving Montgomery County, MD, including Bethesda, Silver Spring, Aspen Hill, Colesville and Laurel
Visiting Angels
BETHESDA, MD
4803 St. Elmo Ave 2nd Floor
Bethesda, MD 20814
Phone: 301-490-9050
Fax: 410-549-2909