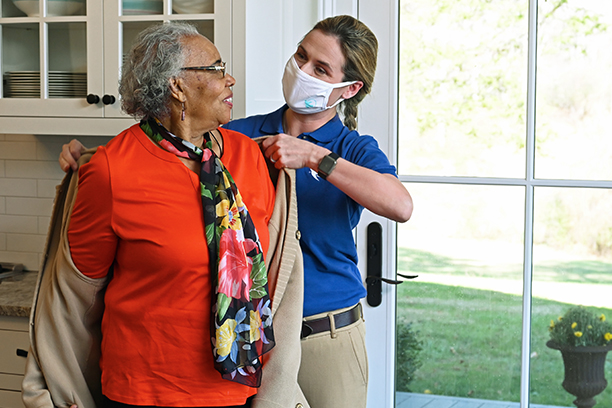 Visiting Angels Helps with Personal Care and Hygiene for Older Adults in Bethesda, MD and Surrounding Areas
Aging in place comes with many benefits but also some challenges. When health or mobility start to decline, it can be difficult for older adults to maintain an independent lifestyle and properly take care of all their daily needs. Senior home care services from Visiting Angels of Bethesda help seniors in Bethesda, Silver Spring, Aspen Hill and throughout North Prince George's County and South and Eastern Montgomery County continue their routine and safely and comfortably age at home.
While some older adults need a bit of help with daily tasks like housekeeping or running errands, others require more support. The good news is that even seniors with advanced care needs can spend their golden years in the comfort and privacy of their homes, with the assistance of our senior care experts.
How Will I Know if My Loved One Needs Professional Senior Home Care?
One of the first signs that your loved one may benefit from expert senior home care services is the inability to maintain proper personal hygiene. If they do not seem to care for their appearance anymore, wear the same clothes for days or smell bad, it is time to start the conversation about senior care.
Your loved one may at first be reluctant to even consider professional in-home senior care, but the truth is that these services can only help them achieve greater independence and make better choices for their future. At Visiting Angels of Bethesda, we can provide your loved one with a customized plan and schedule of care and help them with all activities related to personal care.
How Our Caregivers Help Seniors in Bethesda and Surrounding Areas
Taking care of one's hygiene is important not just because of self-esteem but in order to prevent hygienic issues like rashes, odors and other skin problems that may develop as a result of infrequent bathing. And when these issues appear, they often come with emotional problems as well.
This does not have to happen to your parent. With our support, they can get all the assistance they need to look good and feel even better.
Our senior home care providers assist clients with:
Bathing and showering
Dressing and undressing
Grooming
Makeup appliance
Hair styling
Shaving
Dental care
Toileting and incontinence care
It is important to keep in mind that our caregivers perform these tasks with compassion, reducing embarrassment and preserving your loved one's dignity.
Reach out to our Bethesda, MD office today to learn more about our senior care services and how we can support your loved one as they age. We are happy to schedule your free consultation, as well!
Serving Montgomery County, MD, including Bethesda, Silver Spring, Aspen Hill, Colesville and Laurel
Visiting Angels
BETHESDA, MD
4803 St. Elmo Ave 2nd Floor
Bethesda, MD 20814
Phone: 301-433-7237
Fax: 410-549-2909