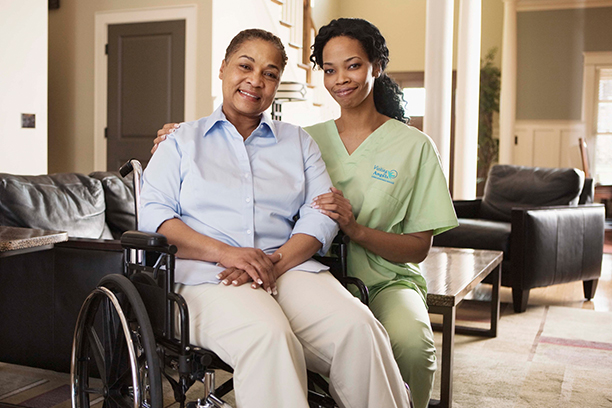 Helping Seniors in Bethesda, MD and Surrounding Areas Stay Connected
Many seniors who choose to remain in their homes as they age risk becoming too isolated and even depressed. It is common for seniors to struggle with mobility or no longer being able to drive. Fewer opportunities to participate in social activities and interact with family and friends can have a damaging effect on your senior relatives.
Families often want to reach out to loved ones over the phone, through video chat or by sharing photos online. This type of technology is second nature to many of us and often the main means of communication for our families and friends. For senior loved ones, it can be hard to navigate new technology on their own.
This is where the Social Care program from Visiting Angels of Bethesda can help! In addition to providing companion services for seniors, we can help your loved one stay in touch with friends and family by teaching them how to use digital platforms for social interaction. Our caregivers have helped many seniors in Bethesda, Silver Spring, Aspen Hill, Leisure World, Laurel and throughout Montgomery County in Maryland stay in touch with the people they care about for over 21 years.
Why the Social Care Program from Visiting Angels of Bethesda Matters
Keeping seniors engaged in their favorite hobbies and social activities is crucial for long-term wellness and happiness. However, if your loved one struggles with mobility issues, chronic illnesses or driving, you may be concerned for their safety while being active.
Studies show that surfing the internet can help reduce depression among seniors by as much as 20 percent. Moreover, a study conducted by researchers from the University of Arizona noted that seniors who use Facebook have 25 percent improvement in their mental cognitive skills and working memory. It also helps provide positive emotional experience as they are able to reach out to their families despite the distance.
How Companion Services for Seniors Can Help
Our Social Care program is built right into our companion services for seniors. The companionship of a reliable, consistent and friendly caregiver can be a bright spot in your loved one's daily routine. Our Social Care program is designed to provide your senior loved one the opportunity to connect with friends, family and colleagues as well as do things that are related to their hobbies through the use of technology.
Our Angel companions can help your loved one utilize platforms like Skype, Facebook, and FaceTime to talk with out of town family members and friends, view photos and simply catch up with the things they are interested in.
Your family can choose and set up what will be most beneficial for your loved one – social profiles, technology, games and more. Our caregivers will simply help them get logged in and enjoying the benefits of using new technology to socialize with friends and family.
In addition to teaching your loved one how to use social networks, our caregivers can also help with:
Queuing up favorite movies and shows through streaming services
Browsing and reserving library books
Playing games and puzzles on tablets or computers
Listening to favorite music and watching videos
Contact Visiting Angels of Bethesda today to learn how our companion services for seniors can help improve your loved one's quality of life at home. Give us a call today!


Serving Montgomery County, MD, including Bethesda, Silver Spring, Aspen Hill, Colesville and Laurel
Visiting Angels
BETHESDA, MD
4803 St. Elmo Ave 2nd Floor
Bethesda, MD 20814
Phone: 301-490-9050
Fax: 410-549-2909