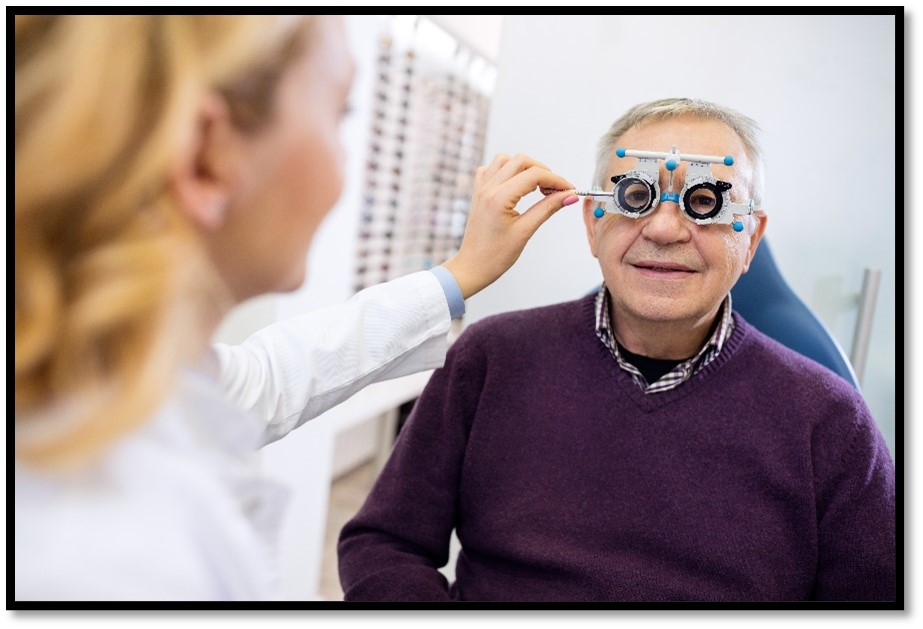 Common Vision Conditions Affecting Seniors
Vision conditions can affect people of all ages, but some conditions are more prevalent in older adults. March is Save Your Vision Month, making it a great time to learn about seniors' common vision conditions.
Glaucoma
Glaucoma refers to a group of eye conditions affecting the optic nerve. It happens when a buildup of fluid applies too much pressure to the eye. It's the leading cause of blindness in those aged 60 and older, although it can occur at any age. Additional risk factors include a family history of glaucoma or those with high blood pressure, diabetes, heart disease, or sickle cell anemia.
In addition to vision loss, glaucoma symptoms also include eye pain, headaches, blurred vision, redness of the eye, tunnel vision, and blind spots. Unfortunately, any vision loss due to glaucoma can not be recovered, but doctors can slow the condition's progression with early detection.
Macular Degeneration
The small central portion of the retina is called the macula. The macula may wear down with age causing macular degeneration. It doesn't usually cause complete blindness, but it is a leading cause for vision loss in adults older than 60.
There are two types of macular degeneration; dry and wet. The dry form occurs when drusen, which are yellow deposits, flow into the macula and cause vision changes. The wet form happens when blood vessels behind the macula leak and the blood gets into the retina, causing blind spots and sometimes a loss of central vision. Early signs of macular degeneration can go unnoticed. Still, you should visit your eye doctor if you experience blurry vision, dark or blurry areas in your center of vision, or changes in color perception.
Cataracts
A cataract is when the clear lens of the eye becomes cloudy, causing vision impairment. They form when the eye lens becomes thicker and the tissue within the lens break and clump together to create a film over the eye.
Cataracts tend to develop slowly with time and can be managed with eyeglasses, although doctors may suggest cataract surgery if the cloudiness becomes so serve it disturbs daily living. Those suffering from cataracts may also experience poor night vision, sensitivity to light, fading of colors, or double vision. The most significant risk factor is age, but it's even more prevalent in those living with diabetes, obesity, high blood pressure, or who smoke. It can also be caused by a previous eye injury or eye surgery.
Dry Eye
Eyes tend to produce less moisture with age, resulting in dry eyes. It's a common condition causing irritation, pain, eye redness, eye fatigue, and a sensitivity to light. Dry eyes can affect people at any age, but it's most common after 50. It's also more common in women, those who wear contact lenses, and those who don't consume enough vitamin A.
You can manage mild symptoms of dry eye with eye drops which help keep the eye moist. However, if symptoms persist, talk to your doctor about alternative options for relieving dry eyes. If left untreated, serve dry eyes can cause tiny scratches or tears on the eye, which can be painful and cause vision difficulties.
Diabetic Retinopathy
Diabetic retinopathy is a result of damaged blood vessels behind the retina. The primary risk factor is poor blood sugar control and can develop in anyone with type 1 or type 2 diabetes. When there's too much sugar in the bloodstream, it can cause blockage in the blood vessels leading to the retina. Since the retina isn't getting the blood supply it needs, the eye tries to grow new blood vessels. Often these new blood vessels don't develop properly, and they leak, causing diabetic retinopathy.
Some people don't experience any symptoms early on or may overlook mild eye troubles. As the condition progresses, symptoms may include blurred vision, dark spots or floaters, empty areas in vision, or vision loss. If left untreated, it can cause blindness. There is no cure for diabetic retinopathy, but treatment can help manage symptoms.
Retinal Detachment
Retinal detachment occurs when the retina, a thin layer of tissue behind the eye, becomes detached. There are three types of retinal detachment: rhegmatogenous, tractional, and exudative. Rhegmatogenous is the most common type of retinal detachment and happens when a tear in the retinal allows fluid to build up behind the eye and detach the retina. The primary cause of rhegmatogenous detachment is aging. The eye's composition changes with age, making it easier to tear and for the retina to detach. Additional risk factors include a family history of retinal detachment, extreme nearsightedness, previous eye injury, or eye surgery.
All retinal detachments have similar symptoms, such as the sudden appearance of specks in your field of vision, flashes of light in either or both eyes, blurred vision, or a shadow covering your field of vision. Retinal detachment is considered an emergency. If you are experiencing signs of retinal detachment, seek immediate medical attention.
If you or a loved one suffers from an eye condition and needs assistance completing daily tasks, the Visiting Angel Atlanta East team can help. Our compassionate caregivers help seniors with meal preparation, laundry, light housekeeping, personal grooming, transportation, mobility, and more. Our Atlanta East office serves those in Atlanta, Buckhead, Decatur, Vinings, and the surrounding communities. If you'd like to learn more about our services, schedule a free consultation online or give us a call at 404.358.5877.