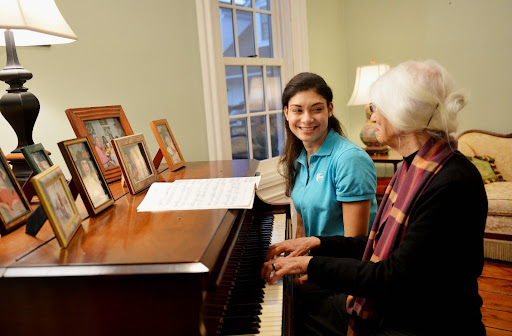 The Role of an In-Home Caregiver
If you're one of the millions of Americans searching for a more rewarding career path, you may want to consider working as an in-home caregiver with Visiting Angels. In-home caregiving is a wonderful opportunity to connect with aging adults in your community as you help them age in the comfort of their homes.
What is an In-Home Caregiver?
An in-home caregiver is a professional caregiver who provides various nonmedical services for seniors to help them age safely and comfortably at home. The specific type of care and length of care can vary depending on the client. Some in-home caregivers visit a client each week to help with household tasks such as laundry and vacuuming. Other in-home caregivers work with a client full-time to assist with personal grooming and mobility.
In-Home Caregiver Services
The primary goal of an in-home caregiver is to help clients live independently. In-home caregiver services can vary depending on the client and the agency. At Visiting Angels, we provide a wide selection of care services to ensure our clients' highest quality of care.
Companion care- Companion care services are perfect for seniors who need help with day-to-day tasks such as light housekeeping, laundry, meal preparation, and medication reminders. In addition to household tasks, caregivers provide emotional support and companionship, including spending an afternoon picnicking with a client or watching their favorite movie.
Personal care- Our personal care services include the same assistance as companion care but with the addition of personal grooming, showering, dressing, mobility, and toileting help.
Palliative care- Our caregivers can provide palliative care to seniors living with chronic health conditions who may need an extra level of attentiveness.
Transitional care- If a client is returning home after hospitalization, our transitional care can help them return home safely and reduce their chances of readmission. Transitional care services can include transportation home after hospitalization or follow-up appointments.
Dementia and Alzheimer's care- Dementia is a complex condition, and seniors living with dementia, such as Alzheimer's, need a caregiver who can evolve a care plan as the disease progresses.
End-of-Life care- Caregivers who provide end-of-life care work alongside hospice teams to provide emotional and spiritual support as clients enter their final stages of life.
Respite care- Some seniors have a dedicated family member who provides most of their care. Respite care is an option for family caregivers who want a reliable caregiver to temporarily assist their loved ones while they relax, recharge, or attend to other parts of their life for a short time.
Working with Visiting Angels
Working as a caregiver is a rewarding career, and at Visiting Angels, we're always looking for compassionate individuals to join our team. Our locally owned and operated office in Atlanta East recruits full-time and part-time caregivers to work with seniors in Atlanta, Buckhead, Decatur, Vinings, and the surrounding Georgia communities. We offer competitive hourly pay, paid training, flexible scheduling, and bonus opportunities.
If you're interested in learning more about our employment opportunities, complete this online application or call us at 404.358.5877.