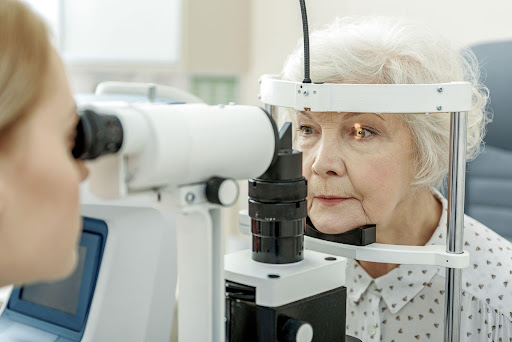 Vision Impairment in Seniors
Vision impairment is a common health concern among seniors in the United States. According to AAFP, nearly one in three adults will experience some form of vision impairment by 65, and vision loss makes it more difficult for seniors to perform certain activities and care for themselves. February is Low Vision Awareness Month. It's the perfect time to learn about common vision impairments and tips for living with and preventing vision loss.
Common Vision Impairments
It's natural to experience vision changes with age. A few common age-related vision impairments include glaucoma, age-related macular degeneration, cataracts, and chronic dry eyes.
Glaucoma- Glaucoma refers to a group of eye conditions that cause damage to the optic nerve. It is one of the leading causes of blindness in people older than 60. There are two main types of glaucoma; open-angle and acute angle-closure. Most glaucoma cases can develop without any symptoms in the early stages. However, as the disease progresses, you may start to experience blind spots, tunnel vision, severe headaches, eye pain, blurred vision, nausea, and eye redness. If left untreated, glaucoma can lead to complete blindness.
Age-Related Macular Degeneration- Also called AMD, this is an eye disease that blurs the central vision. There are two main types of AMD; dry and wet. In the early stages of dry AMD, you may not experience any symptoms. You may develop a blurry central vision during intermediate stages or trouble seeing in low light. In the most advanced stages, and with wet AMD, symptoms include more severe blurry vision or blank spots. You may also notice a dullness in colors or trouble seeing without bright light.
Cataracts- A cataract is when the eye's clear lens becomes blurry. Cataracts are most common in older adults who have diabetes, high blood pressure, smoke, or an eye injury. Additional signs of cataracts are poor night vision, sensitivity to light, double vision, fading colors, or needing frequent updates to eyewear prescriptions.
Dry Eye- Excessive dry eyes become more frequent with age as the eyes have a more challenging time staying lubricated. Dry eyes can cause a stinging or burning sensation and make eyes sensitive to light. Dry eyes can also make it difficult to wear contacts and cause blurred vision. If left untreated, dry eyes can result in eye infections or damage to the eye's surface.
Living With Vision Loss
Vision changes are common with age, but one of the best ways to take care of your eyes is to schedule regular appointments with your eye doctor. Everyone's eyes are different, so it's vital to talk to your doctor about the best treatment and preventative measures. Plus, seeing your eye doctor increases your chances of early detection for more severe eye conditions. And the sooner a doctor can diagnose a condition, the easier it is to delay the effects or heal the disease.
You may also want to invest in a few low vision aids to help you with daily tasks such as reading. Depending on the severity of your vision impairment, your doctor may suggest prescription eyeglasses for everyday use. Additional gadgets to help you see include telescopic glasses, eyewear with lenses to help filter light, and magnifying glasses.
How Visiting Angels Can Help
If you're a senior adult living with a vision impairment and need help around the house, the team at Visiting Angels is available to assist you. Our team of compassionate caregivers can help with various nonmedical tasks such as light housekeeping, medication reminders, meal preparation, mobility assistance, personal grooming, transportation, and more. Our Atlanta East office serves those in Atlanta, Buckhead, Decatur, Vinings, and the surrounding Georgia communities. If you'd like to learn more about our at-home services, you can complete this online form or give us a call at 404.358.5877.