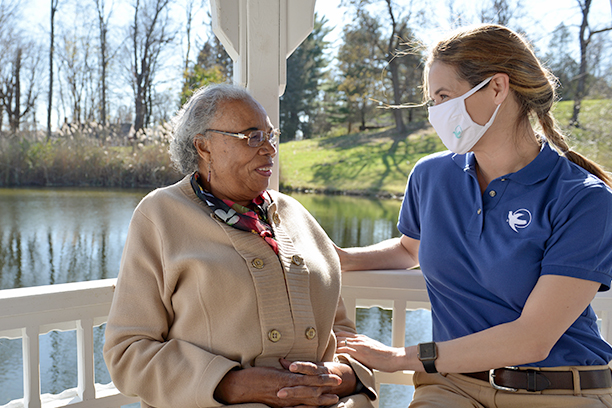 Elder Care: Social Care Program for Seniors in West Atlanta, GA
From making FaceTime calls to searching for information on the internet, Visiting Angels of West Atlanta's social care program helps local seniors use modern technology to stay connected with the world around them. At Visiting Angels of West Atlanta, we believe that social care is a vital part of a senior's elder care.
West Atlanta seniors are empowered to remain active and engaged in the lives of the people that they love the most through elder care.
Studies about the impact of socialization and modern technology on senior health:
Research has found that social isolation can be detrimental to a person's overall health. Once a person strengthens their social relationships, benefits include a reduced chance of depression, better sleep, increased productivity, and a strengthened immune system.
The Global Council on Brain Health (GCBH) has shown that increased socialization helps "thinking skills and slows cognitive decline later in life." Maintaining social relationships betters an older adult both inside and out.
A University of Arizona study found out that seniors who used Facebook showed a 25 percent improvement in mental "updating" skills, which refers to their working memory. Another study
Our Social Care Program
Throughout our social care program, seniors are taught a variety of ways to ease their lives through modern technology. They include:
Using a cell phone:

Our elder care teaches West Atlanta seniors the ins and outs of using a modern cell phone. This includes calling, text messaging, and surfing the internet.

Video-calling software:

Caregivers showcase popular video-calling software to their students including Skype and Facetime.

Facebook:

Facebook use among older adults has grown in recent years. During our social care program, we will teach seniors how to create an account and navigate the social media platform.
Surfing the web:

West Atlanta seniors will learn how to shop online, log in to their online accounts, and use an internet search engine.
To learn more about our social care program, call 404-341-7049 at your earliest convenience.
Serving Metropolitan Atlanta, GA and it's Surrounding Areas
Visiting Angels
ATLANTA-MIDTOWN
1100 Peachtree St NE #200
Atlanta, GA 30309
Phone: 404-341-7049
Fax: 404-873-8320