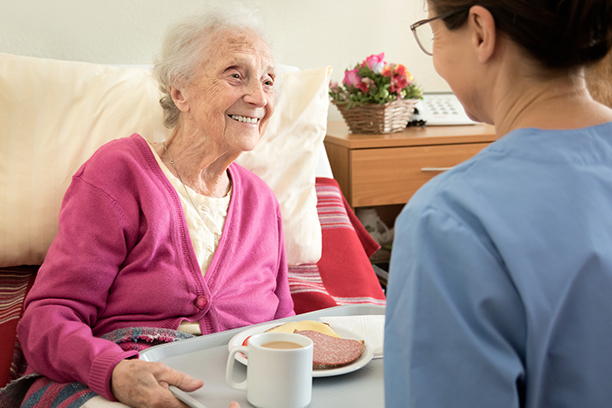 Get Ready, Set, and Go Home! Home Health Aides in Bedford, NH
In Bedford, NH, Visiting Angels are here to provide seniors with the ultimate in home care, a supportive service that offers several advantages, including in-hospital visits and in home care. With our Ready-Set-Go Home program, we can help your loved one recover after their hospital stay. Our caregivers help reduce the chance of hospital readmission through compassionate care.
Ready–Set–Go Home Health Aides
To reduce readmissions, our program attempts to understand how they can help seniors stay out of the hospital. More often than not, your loved one may end up in the emergency room for issues like trouble managing their illness, lack of follow-ups with post-surgeries, or medication mishaps. Once we've clarified the bigger picture, we can come up with a plan to decrease the likelihood of these incidents occurring again. After seniors return to their house, our home health aides communicate with family members to plan a secure and comforting transition.
Overseeing Rehabilitation, Medication, and Nutrition
At home, Visiting Angels are your assistants, and they are vigilant in overseeing all things that are necessary for rehabilitation. Also, they're the "eyes and ears" that know what's going on at home, and they're able to talk to family members about any health problems that come up. Our helpers are in-tune with how seniors react to their prescriptions and if they're eating enough healthy food, and they can also keep notes on follow-up appointments. In essence, they're taking care of your beloved elder as though they too were a family member.
Spotting Warning Signs and Red Flags
As trained aides, our helpers know how to spot warning signs and red flags. If something is amiss, they'll understand what to do, and inform both the family members and, if need be, call for emergency assistance. It's vital to address these concerns promptly, as some situations call for immediate attention. With our in home care providers, there's no need to worry about your elderly mother or father, because they're always in good, caring hands.
Serving Candia, Manchester, Bedford, Derry, Londonderry, Hooksett, Auburn, Raymond, Salem, Concord, Bow, Goffstown, Dunbarton, Weare & Suncook, NH
Visiting Angels
AUBURN, NH
14 Hooksett Rd
Auburn, NH 03032
Phone: 603-483-8999
Fax: 603-483-8922