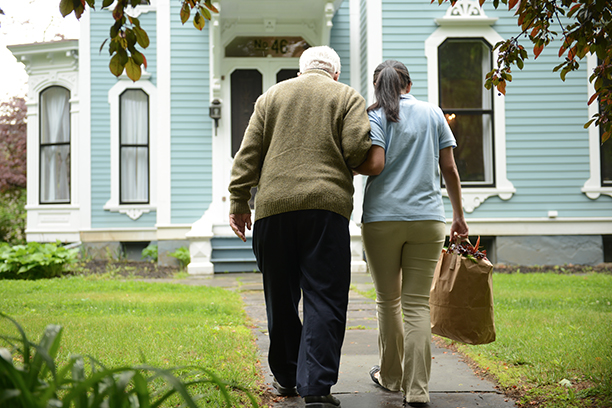 In Home Care for the Elderly - Our Story
Visiting Angels of Manchester Provides Compassionate In Home Care for the Elderly
Debra Desrosiers, Director, was employed as a Corporate Controller of a car rental agency servicing 6 locations in NH & MA for 15 years. Debra's first priority has always been customer service and treating people with dignity and respect. Debra had a vision of how she would provide customer service to clients as well as treat employees with respect and compassion if she owned that company. After some serious thought and need for change she went on a mission searching for her own opportunity that would be personally satisfying and would give back to her community. Debra came across Visiting Angels and researched the Franchise extensively before purchasing in 2004. Debra has strong family connections with Down' Syndrome and Dementia that led her on the path of servicing families and providing them with top notch care they deserve. Debra has walked down the path so many of our clients are experiencing themselves. Debra listened to families, often expressing frustration that they had few alternatives other than to place their loved ones in the nursing facility. Before long Debra's dream was realized with the families her agency began in home care for the elderly for and had established some great relationships.
Getting Started In the spring of 2004, Debra resigned from her position with the car rental agency and started the very first Visiting Angels agency in New Hampshire. Debra's hard work, dedication and commitment to her clients have earned her an excellent reputation in the community. Now in its seventh year in business, her agency has provided in home care for the elderly to hundreds of families in the Southern New Hampshire area and her clientele continues to expand.
Community Involvement
Debra was given the "Unsung Hero" Award by Alzheimer's Association MA/NH Chapter for her dedication for advocacy, education, and awareness of dementia in our community by the Alzheimer's Association MA/NH Chapter in 2012
Since 2005 Debra has served in many roles for The Walk To End Alzheimer's both locally and nationally
2006-2014, Debra was actively involved in The New Hampshire Senior Education Network
In 2008, Debra took on another mission and had her dog Sonny trained for Pet Therapy and volunteer's time visiting seniors in nursing facilities and homes
2012 - 2015 Regional Leader for The Walk to End Alzheimer's
2012 Outstanding Market Leadership Award presented by Visiting Angels Corporate Office
2011 - 2016 Excellence in Leadership Award from Homecare Pulse
2015 Better Business Bureau Torch Award winner in large business category
Since 2011 Debra serves as Visiting Angels National Team Coordinator for our Walk To End Alzheimer's mission Member of the Franchise Advisory Council for Visiting Angel Franchise (Term 2016-2018)
Philosophy of the Franchise we adopted The directors of Visiting Angels have always held the philosophy that they are in business to provide the best in home care for the elderly as well as total respect to the care giving staff. It's their belief that our network of franchised "Visiting Angels" homecare agencies should have the very best in training and support so that elderly clients will receive top quality care wherever the need exists. That's why Visiting Angels is . . .
"America's Choice In Homecare".
Serving Candia, Manchester, Bedford, Derry, Londonderry, Hooksett, Auburn, Raymond, Salem, Concord, Bow, Goffstown, Dunbarton, Weare & Suncook, NH
Visiting Angels
AUBURN, NH
14 Hooksett Rd
Auburn, NH 03032
Phone: 603-483-8999
Fax: 603-483-8922