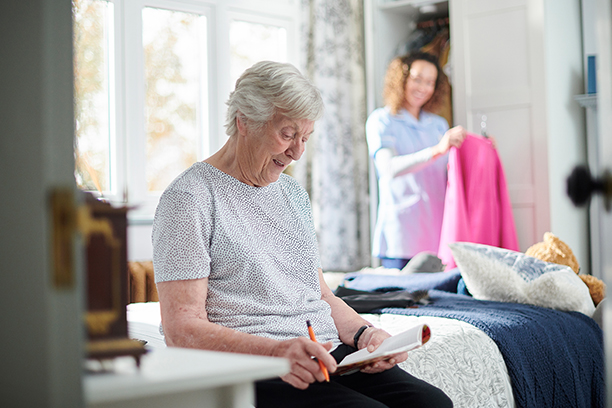 Our In-Home Care Agency Provides FREE, In-Home Assessments to Seniors and Their Families in Aurora, CO and the Surrounding Area
If you have been considering an in-home care agency for your elderly loved one, you probably have many questions. With the wide variety of senior care services that are available, it can be difficult to know where to start and you may even feel overwhelmed.
Our in-home care agency offers a free, in-home assessment to all our potential clients so they can learn about our services and how they can be utilized for their loved one's needs. This assessment is the best way to discover the incredible benefits we offer our clients and answer all the questions you may have without any obligations to purchase our services afterwards.
Assessment Preparation
The first step you should take before your assessment is to let your loved one know you are thinking about hiring an in-home care agency. This might be a sensitive issue for your loved one and while they may object, it is important to let them know that your main priority is their health and well-being. Make sure you listen to your loved one and truly hear their concerns and opinions about care.
Before a consultation, it is important to think about:
The days and times your loved one will need assistance
What tasks they might need the most help with
Your financial situation so you know how much you can spend on services
What questions you have for the care coordinator
The Consultation
A care coordinator from our in-home care agency will schedule a meeting with you and your loved one at your loved one's home. During the meeting, it is important to discuss your loved one's personal care needs. It may feel embarrassing for your loved one to talk about their needs in such detail, however, our care coordinators are compassionate, respectful, and skilled at putting your loved one at ease.
Discussion topics may include:
Personal care requirements, such as bathing, dressing, fall prevention, mobility, grooming, or toileting
Logistics, such as how our caregivers will enter your loved one's home, communication with your local agency, and rescheduling care
Emotional care, such as providing your loved one with conversation, interaction, and companionship
Scheduling, daily routines, and caregiver schedule options
Homemaking needs
Meal planning, preparation, and grocery shopping
Memory care, such as reminders to eat, take medication, or be physically active
Other requirements, such as your loved one's health conditions, meal preferences, and dietary restrictions
Complimentary fall-risk assessments are also included in our assessments. Your coordinator will also make sure to answer any questions you have about our services, caregivers, emergency procedures, and more.
Post-Consultation
After a consultation, we will create a personalized care plan perfectly tailored to your loved one's needs and preferences. The plan will describe in detail the care schedule, as well as how caregivers will assist to your loved one.
Your loved one will then be matched with a compatible caregiver who can provide them with the care they require.
When Care Begins
Most of the time, caregivers can begin providing services within two days of the consultation. However, there are rare instances where care can start the same day as the consultation. If you live far away from your loved one, you can still participate in the consultation by phone call. When your loved one requires adult home care, reach out as soon as possible for a free, in-home assessment.
Call our in-home care agency today at 720-277-3574 or fill out our form to schedule your FREE consultation.
Serving Aurora, Centennial, Denver, and the surrounding communities in Colorado
Visiting Angels
AURORA, CO
14231 E 4th Ave. #1-210
Aurora, CO 80011
Phone: 720-277-3574
Fax: 720-277-3943