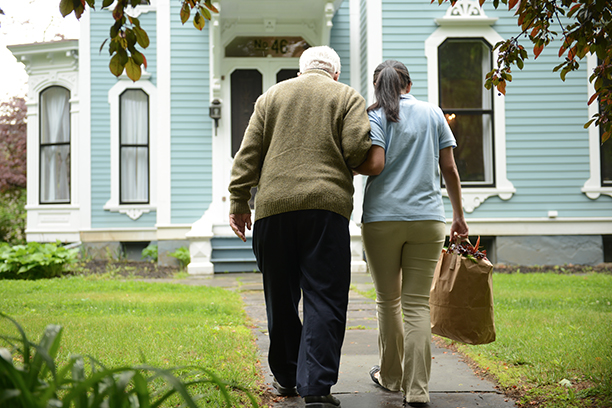 Professional Home Care Services Near the Buckley Space Force Base in Aurora, CO
More and more often, seniors are making the choice to remain at home instead of relocating to senior centers or assisted living facilities. As this happens, families must provide care to their aging loved ones either by taking on a caregiving role or seeking assistance from professional home care agencies.
At Visiting Angels of Aurora, our experienced caregivers can provide care to your loved one in the comfort of their home so that your loved one can maintain their independence. If you live near the Buckley Space Force Base in Aurora, CO and are looking for additional assistance, Visiting Angels of Aurora may be the answer you have been searching for.
What Home Care Services Does Visiting Angels of Aurora Offer?
At Visiting Angels of Aurora, our compassionate and experienced caregivers focus on companionship. When your loved one receives in-home care from one of our Angels, they build a meaningful relationship where they are constantly communicating with your loved one and family. Providing companion care helps combat isolation and depression in seniors and can improve your loved one's overall physical and mental health.
Our home care services include:
Care Around the Buckley Space Force Base
Getting out of the house and remaining active throughout life is important for everyone. However, this can be far more difficult for seniors, especially if your elderly loved one has mobility issues or cannot safely operate a vehicle. Our caregivers at Visiting Angels of Aurora can help your loved one go wherever they need to go and provide assistance away from home.
Visit Memorial Sites
There is a lot to do near the Buckley Space Force Base for seniors to enjoy. The Colorado Freedom Memorial is the perfect place for seniors to go who enjoy being outside and visiting memorials. Seniors can get in some walking exercise while paying respect to fallen men and women.
Visit Religious Sites
If your loved one is spiritual and wants to find some peace and quiet, the Buckley Chapel is welcoming to everyone in the community. The chapel accommodates a variety of different religions holding services for Catholics, Protestants, and Buddhists.
Visit Hospitals or Medical Centers
Caregivers can also assist your loved one to any of the surrounding hospitals including the UCHealth University of Colorado Hospital which is one of the leading hospitals in the nation.
Learn More About Visiting Angels of Aurora Today
If you have a loved one who requires care near the Buckley Space Force Base, contact Visiting Angels of Aurora today at 720-277-3574 and ask how professional in-home care can help.
Serving Aurora, Centennial, Denver, and the surrounding communities in Colorado
Visiting Angels
AURORA, CO
14231 E 4th Ave. #1-210
Aurora, CO 80011
Phone: 720-277-3574
Fax: 720-277-3943