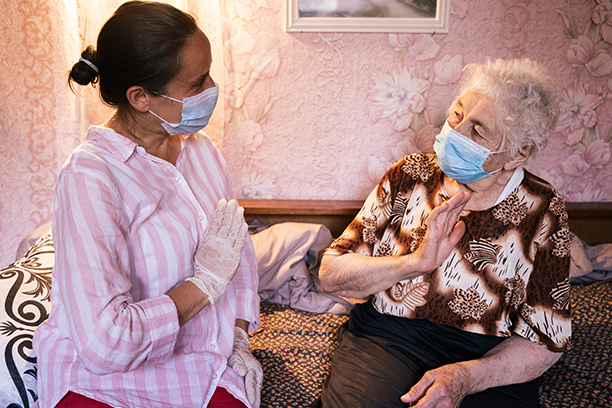 Alzheimer's Care Services
Alzheimer's Services
Despite modern advancements to what we know about Alzheimer's, dementia, and the causes of age-related memory loss, these conditions remain some of the most imposing and frightening consequences of aging. Roughly 10% of people develop dementia in old age, with about two-thirds of those cases are attributed to Alzheimer's. While a loved one's diagnosis of Alzheimer's or dementia can often be cause for despair, there are steps you can take to make these conditions more manageable. Visiting Angels Austin TX offers specialized Alzheimer's services designed to make living with memory loss more manageable for seniors and their families.
One of the greatest benefits to in-home Alzheimers services is the comfort and security afforded by your loved one's home environment. Memory problems often lead to confusion and anxiety, and the familiarity of home can be a great way to ease the stress caused by these issues. This is why Visiting Angels Austin TX's foremost priority when delivering Alzheimers services is ensuring your loved one is healthy, supported, and comfortable enough to remain in the comfort of their living space for as long as possible.
Through our work with the Alzheimer's Foundation of America, caregivers with Visiting Angels Austin are offered training designed by the Dementia Care Professionals of America (DCPA). The DCPA's training program is designed to give non-medical caregivers the highest quality training and education possible in Alzheimer's and dementia care services. With the DCPA's guidelines and training in place, Visiting Angels Austin's caregivers are uniquely qualified to administer Alzheimer's care services.
When designing a program for your loved one's Alzheimers or dementia services, our caregivers will work closely with you, your loved one, and your family. Our programs are designed to maintain your loved one's routine, keep them physically and mentally active, and to support them in their day to day life when their memory falters. Our programs typically combine physical, mental, and emotional care. Common Alzheimers services include meal preparation, medication reminders, dressing assistance, transportation to doctor's offices, and walking assistance.
If one of your loved ones has recently been diagnosed with Alzheimer's or dementia, call our Austin TX office for more information on our care plans. We would be happy to connect your family with one of our experienced and compassionate Alzheimer's services providers.
Serving Austin, TX and the Surrounding Communities
Visiting Angels AUSTIN, TEXAS
9811 Anderson Mill Rd #175
Austin, TX 78750
Phone: 512-250-2103