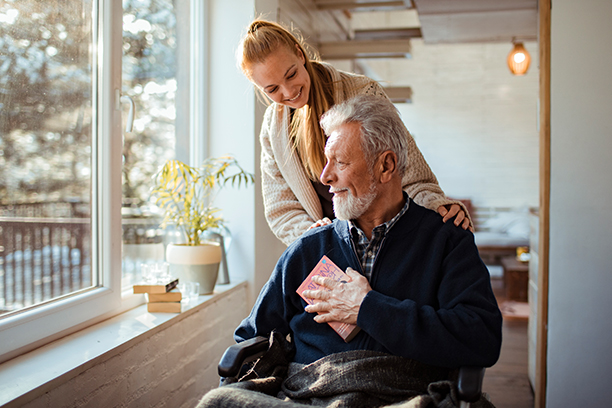 Adult Home Care for Alzheimer's Disease in Bangor, ME
How Visiting Angels Mid Maine's Adult Home Care in Bangor, ME and Neighboring Cities Can Assist with Outbursts
Dealing with anger is one of the most challenging aspects of Alzheimer's adult home care. Everyone gets angry from time to time, but Alzheimer's and dementia can make angry outbursts a more frequent occurrence. This can be hard on loved one's attempting to provide quality care. Adopting sound and sensible strategies to prevent anger and handle outbursts can make life easier for both parties.
Understanding Where Anger Comes From
In order to deal with outbursts in those with Alzheimer's and dementia, you need to understand where that anger comes from. Knowing the root causes can prevent aggression and help diffuse angry situations.
Those with Alzheimer's or dementia may become angry due to:
Physical Triggers: These include discomfort, soreness, dizziness, nausea, or exhaustion. It can also extend to the frustration experienced when unable to do physical activities.
Emotional Triggers: Being either over-stimulated or under-stimulated may cause anger. This can range from being overwhelmed to being bored.
Mental Triggers: Confusion is one of the most common causes. This may be caused by a mental hiccup with memory or thought, or by a change in surroundings.
Handling Outbursts
Knowing what triggers anger can help prevent some outbursts, but because some triggers are unavoidable, being able to handle these outbursts is key.
Some basic rules for Alzheimer's adult home care are:

If the cause of anger is known, try to eliminate or resolve it.
Do not respond to violence with violence unless your safety is at risk.
Maintain a calm demeanor to avoid adding fuel to the fire.
Leave the room if possible. This will give both of you time to settle down.
Instead of arguing with the person, try to be understanding and sympathetic.
Those with Alzheimer's or dementia should not be punished for their anger. This mistake is frequently made by loved one's trying to provide care at home. Not only do those with a memory disorder have no control over it, they will likely forget about their outbursts soon after they occur.
Get Help from the Experts at Visiting Angels Mid Maine
Alzheimer's care can be extremely challenging for a loved one to handle alone and help from a care provider may be needed. If you feel as though you could use professional Alzheimer's adult home care, contact our agency today at 207-605-8288 or fill out our intake form by clicking here or clicking the link below.
Serving Bangor, Brewer, Hampden, Orono, Old Town, and the Surrounding Area
Visiting Angels
MID MAINE
444 Stillwater Ave,
Bangor, ME 04401
Phone: 207-605-8288
Fax: 207-573-1863