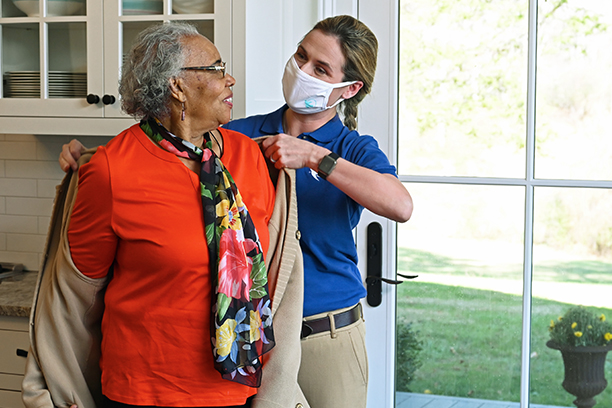 At-Home Care and Light Housekeeping in Bangor, ME
Visiting Angels at-home care is available for seniors in Bangor, Brewer, Hampden, Orono, Old Town, and the surrounding area.
As a family caregiver, you may have recently noticed that your elderly loved one struggles to keep their home in order. When you're a family caregiver, you want to do everything you can to aid your loved one.
Visiting Angels Mid-Maine can provide you with a better solution than a maid service or a professional cleaner who can undertake general cleaning regularly at your loved one's home. You may count on us for various in-home care services, including assistance with housework and other routine tasks. We're here to make sure your parents can stay in the house they've grown to love in peace, comfort, and independence for as long as possible.
Cleaning the Home of a Loved One with the Help of Our Caregivers
The cleanliness of your parent's house, where they spend most of their time, is another reason why you should consider working with expert senior care providers. Germs, bacteria, allergies, and other things that could harm the already fragile health of older adults are kept at bay in a clean house regularly.
Falls are a serious health concern for seniors who still live independently at home. Therefore, our agency offers safety tips to help lower the chance of a fall.
At Visiting Angels Mid-Maine, we offer the following light housekeeping services for your elderly parents:
Vacuuming
Dusting
Laundering
Making the bed
Changing sheets and linens regularly.
Getting rid of the garbage
Although we are pleased to assist with a wide range of duties, our job description does not typically include physically demanding activities such as moving furniture, cleaning carpets, scrubbing floors, washing windows, or mowing the lawn. The areas of your home are most important to your loved one's general health and well-being.
Our caregivers will not only keep your loved one's house clean and orderly, but they will also provide meaningful conversation and caring companionship. They will make constant efforts to improve their quality of life in any way imaginable. To ensure that your loved one's daily routine is not disrupted, our caregivers can tailor our home care services to their needs.

Get in touch with our Mid-Maine office to learn more about how our in-home care services can benefit your parent. If you have any queries or concerns, please don't hesitate to contact us. Do not hesitate to ask for assistance!

Serving Bangor, Brewer, Hampden, Orono, Old Town, and the Surrounding Area
Visiting Angels
MID MAINE
444 Stillwater Ave,
Bangor, ME 04401
Phone: 207-605-8288
Fax: 207-573-1863