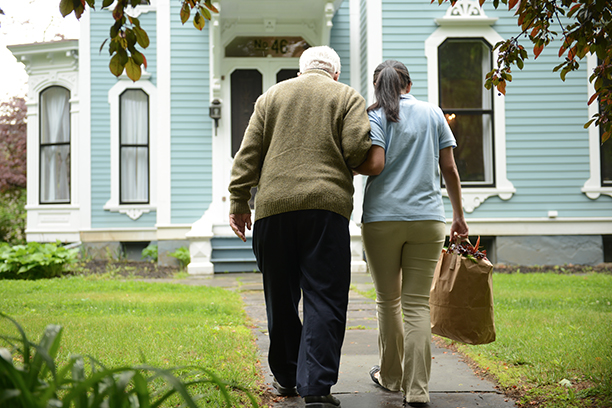 Get Medication Reminders with Our Senior Support Services in Bangor, ME, and the Surrounding Area
For seniors who choose to remain independent in their golden years, chronic or worsening health conditions can make daily life more challenging. Senior support services from Visiting Angels Mid Maine can help your loved one balance their independence, lifestyle, and connections with family and friends. One of our expert caregivers can provide one-on-one home care to help your loved one every day in the comfort and privacy of their home.
Visiting Angels Mid Maine Offers Extensive Senior Support Services that Include Medication Reminders in Bangor, Brewer, Lewiston, and Nearby Cities
Managing chronic conditions, pain, or long- and short-term health conditions can be hard for seniors who live alone. Chronic and long-term conditions may have multiple or varied symptoms and side effects to deal with. Some pain remediation techniques become less effective over time; some may have detrimental side effects, or even cause addiction. If your aging loved one faces health conditions that impact their daily life, senior support services can help.
Conditions like arthritis, osteoporosis, shingles, or respiratory diseases can cause daily and long-term pain; in our golden years, the effects of old injuries or illnesses can often be felt again. Pain and untreated health conditions can cause new or worsening depression, anxiety, and other mental and emotional outcomes, as well as wear and tear on the body.
Managing Health Conditions
Our expert caregivers will work to learn more about what your loved one needs to feel better and manage their daily health. Some clients may have physical therapy routines, stretches, or exercises to complete each day. Other clients need assistance keeping a regular medication regimen, including pill reminders, planning dosages for the day or week, knowing when to eat meals or snacks alongside taking medication, and more.
Our at-home caregivers have specialized knowledge to help your loved one manage health conditions, pain, medication regimens, and mobility needs in the comfort and safety of their home. While every care plan will always be customized to the needs and capabilities of our clients, your loved one will always have access to mobility assistance, safe and reliable transportation, and a diligent note-taker at doctor's appointments.
Contact Us Today
While chronic pain or worsening health conditions can be hard to manage, our caregivers can come up with essential home care solutions that can help your loved one's needs. Visiting Angels Mid Maine's senior support services are available in Bangor, Brewer, Lewiston, and the surrounding area.
If you are concerned about the long-term well-being of a loved one, contact our home care agency for assistance.


Serving Bangor, Brewer, Hampden, Orono, Old Town, and the Surrounding Area
Visiting Angels
MID MAINE
444 Stillwater Ave, Suite 101
Bangor, ME 04401
Phone: 207-573-1861
Fax: 207-573-1863