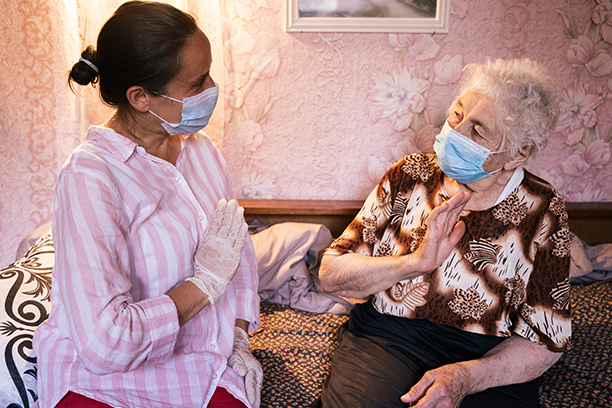 Home Care Providers for Overnight Care in Bangor, ME, and the Surrounding Area
Visiting Angels Mid Maine Offers Overnight Assistance and the Knowledgeable Home Care Providers Your Family Can Rely on in Bangor, Brewer, Lewiston, and Nearby Cities
At Visiting Angels Mid Maine, we know there is nothing more important than family. When a loved one's health changes, they may require monitoring and assistance around the clock—and family caregivers often have competing responsibilities and families of their own. With the help of the experienced home care providers at Visiting Angels Mid Maine, your loved one never has to be alone, and your family will have the peace of mind of knowing that they always have helping hands nearby.
Signs a Senior Needs Overnight Assistance
At Visiting Angels Mid Maine, there is no such thing as one-size-fits-all caregiving. When it comes to overnight care, we know that many health conditions can cause your loved one to have late-night needs. Your loved one might need overnight monitoring and assistance if:
They are prone to sleepwalking (which can be caused by some medications)
They are prone to wandering or have a degenerative cognitive disease
They have mobility challenges and need assistance getting into or out of bed
They wake frequently during the night, or can't sleep through the night
Their health has taken a change for the worse or they have health concerns that would need to be immediately responded to by a medical team
For family caregivers, it is important to have adequate resources that can keep your loved one safe and healthy while also supporting the needs of the family. Overnight care is often beyond the means of family caregivers to keep up with, because it demands ongoing attentiveness and care. Let our practiced home care providers assist your loved one overnight so that you and your family can make the most of every day.
Visiting Angels Mid Maine
If you are concerned about the long-term well-being of an aging loved one, overnight care from Visiting Angels Mid Maine can put your mind at ease. We offer a range of one-on-one care coverage that can improve your loved one's daily quality of life and ensure their safety and comfort overnight. To learn more about our home care providers for overnight care, call our agency at 207-605-8288 today or fill out our intake form here.
Serving Bangor, Brewer, Hampden, Orono, Old Town, and the Surrounding Area
Visiting Angels
MID MAINE
444 Stillwater Ave,
Bangor, ME 04401
Phone: 207-605-8288
Fax: 207-573-1863