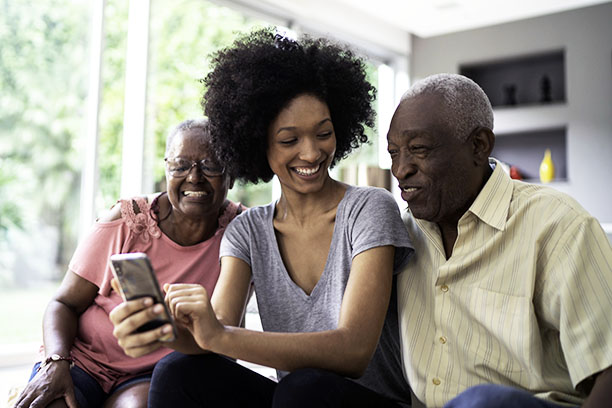 Senior Home Care and Social Care Services in the Greater Bangor, ME Areas
Visiting Angels Mid Maine is known for its professional senior home care services in Bangor and the surrounding area. But did you know that our social care program is incorporated into our services? At Visiting Angels Mid Maine, we believe in providing a holistic approach when caring for our clients. Included in this approach is our social care program.
Are You Looking For Your Loved One to Stay Connected With the Use of Modern Technology? Visiting Angels Mid Maine's Senior Home Care Services in Bangor Can Help!
What are senior care services in Bangor and the surrounding area? It's about incorporating the modern world and technology into the lives of our elderly clients. Using social media platforms like FaceTime, Skype, and Facebook to keep our seniors engaged and active when connecting with their loved ones is what our senior home care services in Bangor and the surrounding area are all about.
What Studies Show About Elderly Social Participation
When it comes to healthy aging, social participation is a determinant. But the truth is, as people age, social participation decreases, increasing their risk for social isolation. That's why studies point out that social participation should be a vital portion of the services offered to the elderly to foster their well-being and health.
In a different study, the positive emotional experience was felt by seniors when they engage in social networking sites such as Facebook, as evidenced by pupil dilation, brain stimulation, and breathing rates. A study conducted by the University of Arizona showed that seniors have improved working memory by as much as 25% by using Facebook since they need to update their skills mentally.
Depression in older adults is decreased by as much as 20% just by surfing the world wide web.
What Our Social Care Program and Care Services Entails
Your elderly loved one will be taught and shown how to use FaceTime or Skype. They will also be shown how to send an e-mail and even text messaging on their phone. They will also be taught how to get and look for information online, even do their shopping online, and most of all, create and log in to their accounts. Primarily, they will also be taught how to use their mobile phones. And last but not least, they would also be shown how to create a Facebook account and then use it in such a way that they can interact with family and friends.
See how our senior home care services at Visiting Angels Mid Maine are here to help your loved one today. Social activity and connection to loved ones are significant to your elder's health, so our senior care services are here to help.
Contact us at 207-605-8288 to learn more about how our senior home care services can help your loved one.
Because of this program, I was able to experience two of the greatest joys in life – becoming a grandmother and seeing my son become a new father. Skyping and Facebooking with my son and his family are now a normal part of my life. It helps me feel like I'm still an important part of their lives even though I'm miles and miles away.

* Washington, D.C. based Phoenix Center
** Journal Cyberpsychology, Behavior, and Social Networking
Serving Bangor, Brewer, Hampden, Orono, Old Town, and the Surrounding Area
Visiting Angels
MID MAINE
444 Stillwater Ave, Suite 101
Bangor, ME 04401
Phone: 207-573-1861
Fax: 207-573-1863