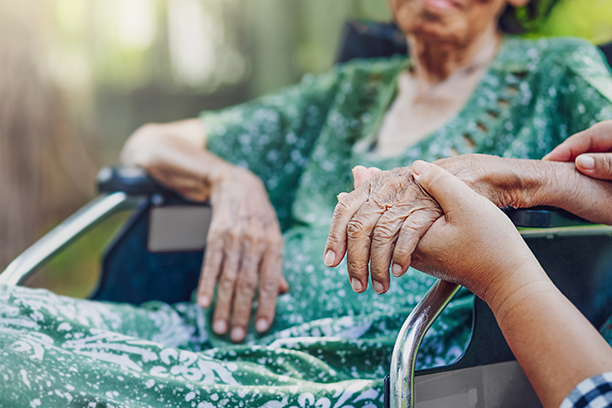 How Private Pay Care Services Can Help Seniors in Bangor, ME
It is easier for seniors in Bangor and the surrounding area to address chronic diseases with individualized care services provided by Visiting Angels
.
Visiting Angels have the knowledge and skills necessary to assist elders with chronic diseases by providing high-quality in-home care. With our care services, your loved ones can preserve their freedom while receiving the critical support they require to manage their chronic illnesses and conditions better.
Chronic Illnesses
A chronic ailment necessitates long-term medical care. Conditions such as these can substantially impact a person's day-to-day activities and make them even more challenging. Several conditions fall under the umbrella of "chronic illness." These include arthritis, asthma, respiratory sickness, diabetes, heart disease, various cancers, osteoporosis, and more. Standard care services may not be adequate for a loved one who has developed a chronic ailment to live out their golden years at home comfortably.
What Services Does Visiting Angels of Mid Maine Provide?
An aging loved one's chronic health can make it difficult for family caregivers to offer the care they need to stay at home safely. A nursing home or assisted living facility move may seem like a fantastic idea at first. Still, it can be distressing for your loved one who values their freedom despite having chronic diseases like dementia. Visiting Angels of Mid Maine's home health care services allow your loved ones to receive the assistance they need in the comfort of their own home.
There are no cookie-cutter solutions to the challenges you face in your own home. Patients who suffer from chronic illnesses will be able to get the help they need to be safe and comfortable at home and take control of their ailments. Caregiver support is crucial in increasing the quality of life for seniors with long-term illnesses, even if they provide necessary personal care.
Our home health aides assist our clients in a variety of ways, including:
Organizing and preparing meals
Vacuuming, dusting, sweeping, and other light housekeeping tasks
Grooming and dressing assistance for those with limited mobility
Taking care of one's hygiene and incontinence
Reminders to take your medication.
Assistive technology
To doctor's appointments, pharmacy, groceries, and more.
Companionship with a smile
Alzheimer's and dementia care for the elderly
Care for the terminally ill
Efforts to prevent falls
After-care services for patients who have been released from the hospital
Our goal is to ensure that your loved one has as many "good days" as possible and to limit the risk of health consequences as much as possible. When you entrust your loved ones to our care, you can be confident that they are incapable and compassionate hands since we go to great lengths to vet the caregivers we select.
Serving Bangor, Brewer, Hampden, Orono, Old Town, and the Surrounding Area
Visiting Angels
MID MAINE
444 Stillwater Ave, Suite 101
Bangor, ME 04401
Phone: 207-573-1861
Fax: 207-573-1863