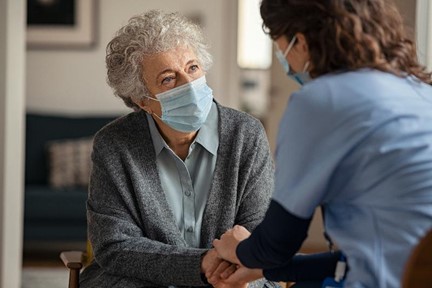 Four ways to make the world a better place this February
We all feel it: it's been a challenging stretch. Winter has been snowy and chilly. The pandemic is showing promising signs, but we're still far from returning to life as we know it.
But here we are in February. It's only the second month of a whole new year. It's full of promise and opportunity. It's tempting to cave into the problems that we see and retreat, but we get to decide how we will approach 2021. Yes, we have some limitations and complexities around which we must navigate, but we also have plenty to offer. Consider these four ways to reach out this February.
Go social
It's been a long stretch. It's hard that many social interactions are limited due to COVID-19. That makes it an ideal time to learn a new skill. Get comfortable using social media, Facetime, texting, and online shopping. It can feel hard to find your comfort zone with new technologies, especially when there are always worrisome stories in the news about hacks and identity theft. Visiting Angels' Social Care Program presents an opportunity to learn how to stay safe online while learning from a professional who knows how to work with seniors. Work at a comfortable pace that genuinely suits you.
Getting connected also enables you to give back. Connect with charities that inspire you. Live stream services from your church. Connect with friends and family through messaging and social media. Connection helps all of us during this difficult time.
Find your tribe
You have unique experiences and insights to offer. You have the perspective that other people need. Maybe you've survived cancer or another severe illness. Perhaps you've learned to navigate the world with a disability. Maybe you've endured the heartache of losing a spouse, or you've come to terms with alcoholism or another addiction.
Some people are at the beginning of a journey you've been through, and they need your support and perspective. As more people are vaccinated against COVID-19, they may meet safely to grieve, heal, and support each other. Perhaps you can be a part of that healing. Support groups will convene again, as it's safe to do so. You can count on your Visiting Angels Caregiver to get you to your meetings and sessions comfortably, safely, and reliably. These meetings are also happening virtually, and they always benefit from those who can share their experience. Find your tribe. Share your story.
Recognize your loved one's needs
It can be challenging to come to terms with what an aging parent or spouse is weathering. They may not want to admit that some things that were once a no-brainer are now a struggle. They may not be ready to accept that they are struggling with early signs of dementia, but your fears around it may be keeping you up at night.
Inviting the right care at the right time is such a relief for you and your loved one. It ensures their health, safety, and wellness. Plus, a Visiting Angels Caregiver can provide that care in your loved one's own home. Many of our caregivers are specially trained to assist seniors who require Alzheimer's or Dementia care.
It takes time to come to terms with the reality of dementia, including Alzheimer's disease. Allowing seniors the time, space, and environment they need to adjust to the change that these health issues bring can make their world more comfortable and sensical. It's kind, compassionate care that we are proud to offer to our clients.
Maintain a compassionate spirit
This is a time for compassion and care. If we can give our families our love, empathy, support, that is an excellent step in the right direction. If we can do the same for our friends, that is likewise important. If we can do it for other people we encounter in our lives - essential workers at the store, librarians, crossing guards, caregivers, teachers, even better. Love and respect always matter. It always makes people feel appreciated and valued.
In 2021, we can make it our mission to combat negativity with an ambition to be patient, respectful, kind, polite, and friendly; we can make small inroads to a more harmonious world. Every little bit helps.
Visiting Angels of Barrington is proud to do our part as well. Reach out to our office team. Let us know how we can assist you and your family.