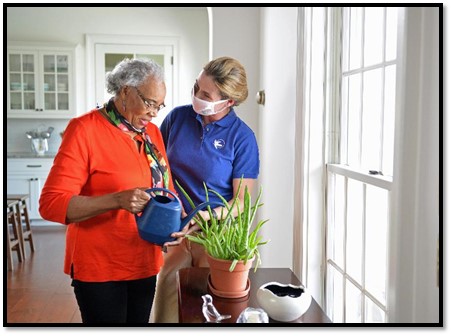 How to support the caregiver in your family
Providing care to an ill or aging family member is a selfless act of love and service. It's also physically and emotionally demanding work. If a member of your family is taking this on for a loved one, recognize that two people in the equation need your care and attention. Both the caregiver and the care recipient deserve support, considerations, and resources to help make the arrangement a healthy and successful one.
Family caregivers often hesitate to reference their own needs. They tend to keep diverting attention back to the person they provide care for - whether their spouse, parent, child or sibling. But the caregivers' needs are essential, too, especially when that person is a senior.
The CDC states: "Caregivers often neglect their own health needs. . . Caregiving can be emotionally and physically demanding. Over half (53%) of caregivers indicated that a decline in their health compromises their ability to provide care." The CDC further reports: "14.5% of caregivers reported experiencing 14 or more mentally unhealthy days in the past month… 17.6% of caregivers reported experiencing 14 or more physically unhealthy days in the past month… 36.7% of caregivers reported getting insufficient sleep."
Being a family caregiver is an unpaid role that provides vital support. It's generous. It's kind. But it also puts the family caregiver in a vulnerable position. The rest of the family needs to be aware of that and factor in the family caregiver's health and needs. To be a safe and healthy arrangement for everyone involved, it has to include support for the caregivers. Here's how you can help.
Caregiver Check-ins
Whether it's a phone call, an email or a drop by, check in with your family caregiver regularly. Ask the caregiver questions about how he or she doing: how are you holding up? How are you managing all of this emotionally? Are you getting time for yourself? How is your health? Are you sleeping and eating? Are you feeling stressed or worried? Are you getting enough support to do all of this? Is there anything more that I can do?
It can be challenging for caregivers to admit that providing care to their loved ones is difficult. It may make them feel disloyal to share their real feelings about it. Be an active and supportive listener as your loved one speaks. Check in with him or her regularly so that the family caregiver gets used to discussing feelings with you. Supporting the caregiver in your family is a meaningful way to make the situation function in a healthy way.
Call in back-up
Family caregivers, or informal caregivers, can feel overwhelmed by the demands of care. Between the duties associated with caring for their loved one, coupled with the responsibilities of caring for the home, it's a lot to manage, especially if the family caregiver is a senior.
Visiting Angels of Barrington caregivers can help by supplementing the arrangement with the support of a professional caregiver. We customize care to suit your needs by providing services like light cleaning, cooking, grocery shopping, running errands, assisting with bathing and grooming. That support can be enhanced and altered as needed so that both the family caregiver and the client precisely get the care and coverage they need to feel supported in the arrangement. Enhanced services like dementia and Alzheimer's Care ensure that your loves are well-supported in whatever they are managing.
Our caregivers provide the support that feels like family, but they have a professional's experience and expertise. It's a fitting way to make the arrangement work.
Take a break
Even when you love the person you're caring for, a break for self-care is still a healthy and necessary option. Our respite care services give the family caregivers the chance to focus on themselves. Tag in our professional caregivers, and give your family caregiver a night, a weekend, or a longer stretch of time off to take time for themselves.
Call Visiting Angels Barrington (224-512-4180) or contact us online to discuss our available options and services. We look forward to working with you and your loved ones!