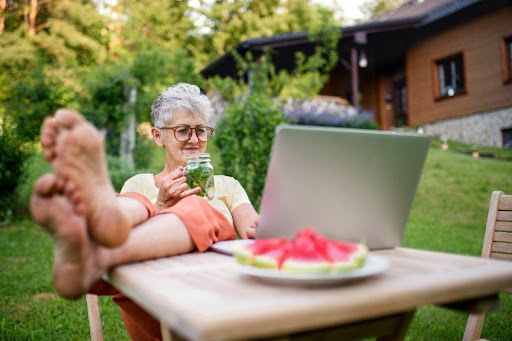 Summer Fun: Engaging Summer Activities for Seniors
The sun is out, so let's have some fun! The summer is a great time for seniors to try new activities and explore new areas. There are many summer-specific activities seniors can enjoy, and many of them don't require much preparation. Throughout this article, we'll discuss ways to make summer fun for seniors.
Go for a Walk
The act of going for a walk during the summer months is one of the best mood-boosting exercises seniors can do. Vitamin D can be increased by exposure to the sun, which acts as a natural serotonin booster. As a result, vitamin D helps seniors maintain a healthy calcium level. Calcium supports bone health, which tends to decline with age. Socializing with others is also an activity that occurs often on walks, and socializing with others can improve conversation skills for seniors.
Cook a Fresh Summer Meal
Summer is a great time to cook fun recipes. There are so many seasonal produce choices available, including zucchinis, corn, carrots, and eggplants. Aside from vegetables, seasonal summer fruit includes watermelons, cantaloupes, and cherries. These ingredients can be used to make a variety of tasty dishes, which can be prepared alone or with friends. Some ideas are a classic carrot salad, baked eggplant parmesan, or a summer corn salad.
Read a Book
Any season is a great time to read, but it is even more enjoyable during the summer. Take your favorite book outside during the warm months to enjoy it under the sun. It may be necessary to use a hat or umbrella for sun protection during this activity. It's fun for seniors to sit on the porch or in the backyard and read a book.
Water Aerobics
Seniors can exercise safely in water without risking injury by participating in water aerobics. Besides releasing pent-up stress and anxiety, water aerobics can be a fun way to catch up with friends. Circulation is improved as the heart pumps and the blood flows throughout the body when doing water aerobics.
Barrington Park District has many aquatic programs including Aqua Aerobics, Lap Swim, and Aqua Aerobics: Circuit Challenge. At Visiting Angels Barrington, IL, we encourage seniors to take classes like these. Our caregivers can transport seniors to and from these classes and will encourage them along the way.
In the summer, seniors can engage in a variety of activities. Crafting, gardening, and yoga are also popular hobbies. Summer is a time to relax, have fun, and spend time with those you love, so encourage seniors to get outside and enjoy it. Give us a call at 224-512-4180 if your senior loved one could use some assistance at home. Our caregivers provide a friendly face, good conversation, and assistance with errands, housework, and appointments. We serve seniors and their families throughout Barrington, Algonquin, Palatine, Lake Zurich, Crystal Lake, McHenry, Woodstock, Cary and the surrounding areas.