Alzheimer's Care in Kingwood: When is it Time?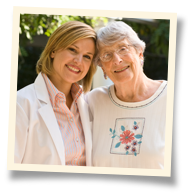 If someone you love is starting to lose their memory, or has recently been diagnosed with Alzheimer's disease or another form of dementia, it's understandable for your family to feel sad, scared, or completely overwhelmed. However, with the right care approach, your family member can still enjoy their life from the comfort of home. Visiting Angels® Baytown offers Alzheimer's care throughout the Kingwood area to make aging in place possible for more people with dementia, but first you need to figure out when it's time to call.
Why You Shouldn't Wait to Talk About Alzheimer's Care
Our Alzheimer's care is tailored to each client in Kingwood, and can be adapted as their needs change, so even if your loved one is still mostly capable at home, our care professionals can make their lives a little easier and be ready to act if their condition gets worse.
If you're still on the fence about Alzheimer's care from Visiting Angels Baytown for your loved one in Kingwood, keep the following risks in mind:
Increased confusion or forgetfulness can affect your loved one's safety and health - From forgetting their medications and doctor's appointments to skipping meals or getting lost when they leave their home, there are many ways that memory loss can affect your loved one's safety and well-being at home.
Social isolation may accelerate memory loss symptoms - If your loved one lives in an isolated location, or they're generally withdrawing from their social circles, they may start to experience more severe symptoms of dementia due to a lack of stimulation.
Burn out or long distance caregiving can affect your ability to respond if your loved one needs help - If you're physically and mentally exhausted as a family caregiver, or you're trying to oversee a loved one's care from another city or state, you may not be able to respond as quickly as you need to. An Alzheimer's care professional from Visiting Angels Baytown can keep an eye on your relative's overall condition and help identify if they need more support in Kingwood.
Our Home Care Services in the Kingwood Area
Our home-based Alzheimer's care is available for families throughout the Kingwood area, including Pasadena, Baytown, Cove, Beach City, Mont Belvieu, Dayton, and Crosby. To learn more about our services or to book a free in-home consultation in Kingwood, call Visiting Angels Baytown today.