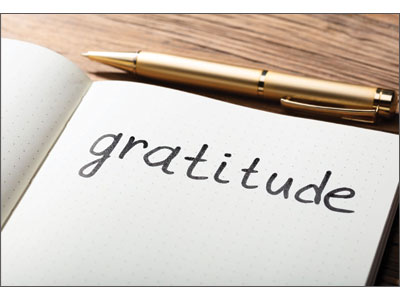 Four Benefits of Practicing Gratitude as an Older Adult
There's no doubt that practicing gratitude can be life-changing, especially for older adults. Seniors should seek to make gratitude a daily part of their lives, whether it's keeping a gratitude journal or simply pausing to be grateful for the present moment. However you choose to practice gratitude, you'll enjoy numerous health benefits along the way. Here are just four benefits of practicing gratitude as an older adult.
Gratitude Builds Community
Gratitude is great for building community. It fosters new friendships and deepens established relationships. Practicing gratitude on a community level can help seniors focus on the bigger picture. Show gratitude to your local community by writing a letter of thanks to Beaver Dam government officials. Bake cookies or drop off a gift card to a grocery store to the Beaver Dam Fire Department. Say "thank you" the next time you purchase groceries at places like Beaver Dam Food Pride. Send appreciation to the Department of Public Works as they prepare for the winter season.
Gratitude Improves Memory
Seniors who practice gratitude typically have a better memory than those who are not thankful. When seniors think about what makes them thankful, they activate the hippocampus and amygdala. These areas of the brain are responsible for encoding and storing memories. Additionally, expressing gratitude causes the volume of gray matter in the memory recall section of the brain to increase. Start a gratitude journal and list three things you are grateful for each day. Try to recall specific events or moments from the previous day and avoid repeats to challenge your memory.
Gratitude Promotes Better Health

Practicing gratitude is extremely beneficial to our physical health. Seniors who are grateful experience fewer headaches and less pain. They are less likely to feel depressed and isolated; therefore, they are more likely to take care of themselves by exercising and eating a healthy diet. Additionally, grateful seniors are more likely to take care of their health and prioritize routine check-ups. Cultivate more gratitude by sharing with others. Donate your time or resources to causes you support. Find local volunteer opportunities on the City of Beaver Dam's website.
Gratitude Increases Sleep
Another benefit of practicing gratitude is better and longer sleep. The discipline of recording a gratitude list helps seniors become more aware of the good things in their lives while reducing pessimistic thoughts. When it's time for bed, grateful seniors are more likely to recall positive thoughts instead of negative ones as they drift off to sleep. This allows them to fall asleep more quickly and sleep more peacefully through the night because they're not fixated on negative thoughts. Develop the habit of ending your day with intention. Intentionally think about all you have to be grateful for, including things you take for granted.
Speaking of gratitude, Visiting Angels Beaver Dam would like to take a moment to thank our current clients and their families for choosing us as their trusted agency for senior living assistance needs. We are grateful to provide care and support that fits your schedule. Current clients and their families can share their gratitude towards us by leaving a review on our website or Facebook page.
If you are a senior or a family member looking for in-home care for an aging loved one, look no further than Visiting Angels. Our comprehensive home care assistance options have made us a trusted partner for senior care in the Beaver Dam area. We pride ourselves on ensuring that you or your loved one remains comfortable and engaged by providing the experienced care synonymous with the Visiting Angels Beaver Dam name. To learn more, please contact us today by calling 920-821-1111.