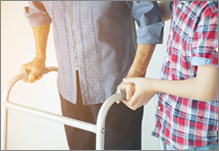 Four Steps to Take After Suffering a Stroke
The Centers for Disease Control and Prevention shares that nearly 800,000 people suffer a stroke each year. Seventy-five percent of strokes occur in adults aged 65 years and older. Although stroke is the fifth leading cause of death among the American population, approximately 18 percent are fatal. This means that most people who suffer a stroke survive.
May is National Stroke Awareness Month, a month dedicated to educating Americans about the facts and symptoms of a stroke and stroke prevention. If your aging loved one has had a stroke, you already know that the road to recovery is difficult. That's why it's so important for stroke survivors to have family nearby to support them through the ups and downs of recovery. Here are four steps family members can take to help make the recovery process easier for your loved one.
Take Time to Listen
A stroke survivor is likely to feel a wide range of emotions, including feeling overwhelmed, discouraged, and anxious. It's important that family members take time to listen. Practice active listening, which simply is putting aside all other distractions to truly hear what the other person is saying. Try not to formulate a response before hearing what your loved one wants to say. Validate their feelings and address concerns they have as they come up.
Become Their Advocate
After a stroke, your loved one may have speech and/or mobility deficits. They may need to rehabilitate in a skilled nursing facility or receive outpatient therapy. They'll have follow-up doctor appointments and may require home health care for some time. One of the most significant ways family members can support their aging loved ones is to become their advocates. Visit them frequently and ensure they are receiving the care they need. Get to know their care team. Communicate your loved one's preferences, so they have the freedom to focus on making a full recovery.
Celebrate Achievements, Both Big and Small
As your loved one progresses towards their recovery, celebrate their big and small achievements. Whether it's learning how to walk again or being able to speak with more clarity, each step towards recovery deserves to be celebrated. Celebrating these milestones will also help your loved ones to stay motivated on their recovery journey. The best encouragement they can receive is from close family and friends.
Join a Support Group
Family members of stroke survivors need their own support network as well. Consider joining a family stroke support group to learn more about stroke recovery. Support groups are also a safe place to share your own feelings without feeling judged. You may even make a new friend who's going through something similar. If you can't find time to attend a meeting in person, look for a support group that meets online.
When a loved one suffers a stroke, the impact reaches beyond the individual. Visiting Angels Beaver Dam is here to help both stroke survivors and their family members. We recognize that the follow-up care stroke survivors receive after suffering a stroke plays a significant role in preventing future strokes. We offer non-medical home care that complements the home health care your loved one may receive. Home health care is often temporary. Our care can continue once your loved one meets their home health care goals. In addition to assisting with personal care or light housekeeping, our professional caregivers can keep your loved one company while you run errands or work. To learn more or get started today, please get in touch with us by calling 920-821-1111.