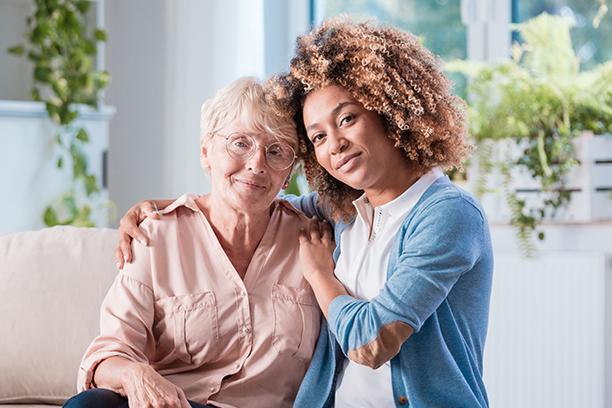 Beaver Dam Dementia Care
Dementia Care Services from Visiting Angels Beaver Dam WI
When you have an aging parent or family member that is diagnosed with dementia you will likely have many questions about their illness. Loved ones often wonder what they can do to help. Because of the nature of dementia and other memory disorders, it's not easy to know the right way to address their needs. Having help from an outside source that offers dementia care services, such as Visiting Angels Beaver Dam WI, can make a big difference.
Experienced caregivers can help guide you when it comes to dementia care. Services from agencies such as Visiting Angels Beaver Dam WI can help encourage your loved one's independence while providing them with assistance that will make day to day living easier. Forming a regular routine for care can help your family member feel secure. The sooner they can begin to bond with an outside caregiver, the better it will be once their illness progresses.
Communicating with a Loved One who has Dementia
The National Institute on Aging has identified several areas where you can approach dementia care in a way that will be helpful for both you and your loved one. Communication can be a struggle when a family member has dementia. By minimizing distractions, speaking directly and simply, and being patient you can help foster better communication between yourself and your loved one. The knowledgeable caregivers from Beaver Dam WI can assist you with strategies for dementia care services.
Dementia Care Services Help to Reduce Stress
There are also several areas of physical needs that should be addressed when providing dementia care services to a loved one. Visiting Angels Beaver Dam WI is available to help with all of these when you need a respite from your role as caregiver. Bathing can be an upsetting time for those who struggle with dementia. Making sure you have everything you need in place before you start and keeping the bathroom warm will help your loved one feel more comfortable. Letting them know what you are doing and allowing them to do as much as possible will help your family member feel in control. As part of our dementia care services from Visiting Angels Beaver Dam WI, we provide a complimentary in home safety assessment and fall risk which can help identify any safety concerns in the bathroom.
Dressing is another area that can cause a lot of stress for someone with dementia. Deciding what to wear and remembering how to put it on, combined with the physical challenges of working with buttons, zippers, and other fasteners can lead to frustration. However, there are ways you can help. Keep your loved one in control by letting them choose from a few items. Provide step by step instructions if they seem confused. Offer clothes that are easy to get on and off. And again, exercise patience. Dementia care services from Visiting Angels Beaver Dam WI are provided by knowledgeable and compassionate caregivers who are adept in these areas.
If you have a family member who could benefit from dementia care services, don't feel you have to go it alone. Visiting Angels Beaver Dam WI can offer assistance and support for family caregivers.
Serving Dodge & Columbia Counties
Visiting Angels
BEAVER DAM, WI
140 Corporate Dr #2
Beaver Dam, WI 53916
Phone: 920-821-1111
Fax: 920-328-0324