Dementia Care Services in Lower Bucks County: Tips To Make Your Days Easier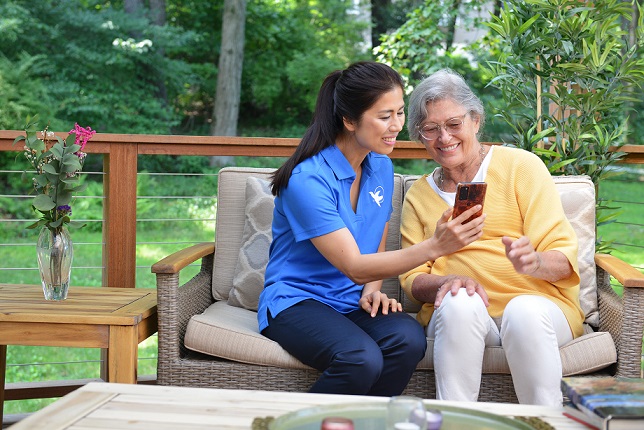 Looking after a loved one with dementia means that every day might bring a new challenge. For families in Lower Bucks County, our dementia care services are one way to overcome some of the daily challenges. At Visiting Angels® Bensalem, we know that this can be a tough time for you and your family member. But with professional home care and other forms of support, things can get a little easier.
Wondering what you can do to help your loved one? Let's take a look.
3 Tips To Reduce Challenges For You and Your Loved One
Your family member is going through so much—what can you do to help? If you're providing care for them, you're already doing crucial work. Here are a few more tips that can make things easier for them (and for you, too):
Reduce stimuli. When a family member is diagnosed with dementia, it can be a big shift for everyone. One thing that's important to keep in mind is stimulation overload. Seemingly overnight, it may become difficult for your loved one to navigate new, loud, or crowded environments. Reduce overall stimuli, especially around the second half of the day, when "sundowning" is particularly common.
Offer reassurance. It's not unusual for someone with dementia to experience heightened anxiety, stress, frustration, grief, anger, or depression. Wherever you can, try to provide a listening ear and lots of compassion. Remind them that you're here for them. If your family member is having an outburst, the last thing you want is to match that emotion. Instead, try to provide calm and reassurance.
Be mindful of your own bandwidth. Providing care for a loved one can be a significant undertaking—and that's especially true if your family member has dementia. Try to find ways to audit your energy levels, take a break, and get support when it's needed. Our dementia care services can be particularly helpful for family caregivers in Lower Bucks County who are feeling overwhelmed or exhausted.
Dementia Care Services in Lower Bucks County
At Visiting Angels Bensalem, we offer comprehensive, flexible dementia care services in:
Lower Bucks County
NE Philadelphia
Bensalem
Andalusia
Bristol
Feasterville-Trevose
Edgely
And throughout the surrounding area
We know that the need for support can happen overnight. Whether you need help now or in the future, we can always set up care that's suited for you and your family member.
Get dementia care in Lower Bucks County today. To get started, contact Visiting Angels Bensalem, and we can take it from there.