In Home Care Services in Feasterville-Trevose Helps With Depression and Isolation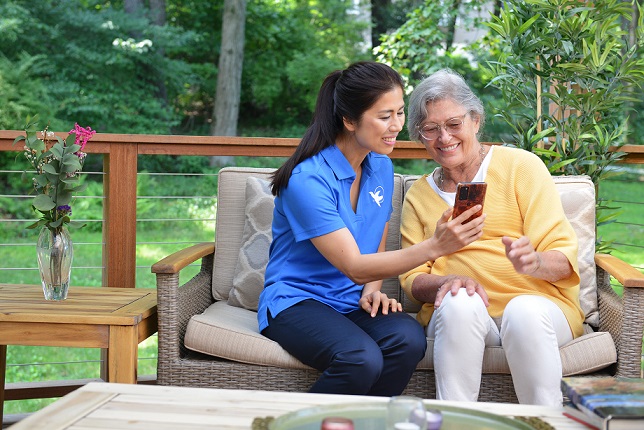 Being social and active can be enormously impactful for seniors in Feasterville-Trevose. But the challenges related to aging can make this difficult or even impossible. That's where in home care services can often be helpful. At Visiting Angels® Bensalem, we're dedicated to helping seniors thrive at home.
Let's review some of the risk factors that contribute to isolation and depression—and how we can help.
3 Risk Factors For Isolation and Depression
The unfortunate reality is that many seniors are at high risk of experiencing isolation and depression. This can increase depending on your loved one's situation. Here are a few risk factors which can be a concern:
Living alone. For seniors in Feasterville-Trevose, living alone can be a significant risk factor for both social isolation and depression. Many older individuals also face a reduced social network through life changes like losing a spouse or having friends pass away. This can significantly compound feelings of anxiety, isolation, and depression. Having regular visits from a familiar caregiving professional is one way to help.
Physical health. As our loved ones get older, it's often inevitable that they face changes in their physical health. Whether they're dealing with a chronic health condition like diabetes or experiencing age-related muscle loss, physical concerns can cause helplessness, frustration, despair, and depression. Home care services can help your family member maintain an independent life with relative ease and support.
Mental health. Seniors are at a high risk for memory disorders like Alzheimer's or dementia. In the earlier stages of these conditions, your loved one may be self-conscious about their health, making it difficult to socialize with others. In later stages, they may experience anxiety or confusion when interacting with friends or family. A professional caregiver can help them maintain routines and activities that bring comfort.
About Our In Home Care Services in Feasterville-Trevose
With our in home care services, we make it our mission to help seniors live life on their terms, with dignity and joy. We work closely with seniors and their families to ensure we're providing adaptable, compassionate support as frequently as needed. Through comprehensive caregiving services, we work with those living in:
Feasterville-Trevose
Andalusia
Bensalem
Edgely
Lower Bucks County
NE Philadelphia
Bristol
And throughout the surrounding area
Discover the many benefits of in home care services in Feasterville-Trevose. Get started with an initial consultation for your loved one—just call Visiting Angels Bensalem today!