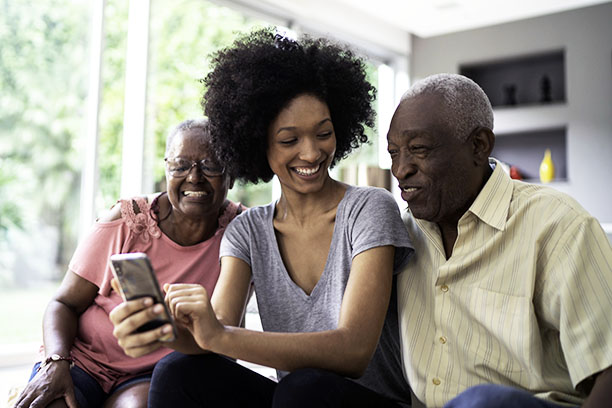 How Our Social Companion Services Assist Seniors in Greater Benton, AR
We at Visiting Angels of Benton recognize the need to take a comprehensive approach while caring for our elderly clients. This entails providing for one's physical and mental needs in addition to their emotional and spiritual needs. As a result, not only do we provide assistance with everyday household tasks and personal care needs, but we also provide in-home companion services to help seniors feel less isolated. Our senior care providers also help aging adults keep in contact with loved ones as they continue to live independently by providing a variety of means of electronic communication.
Our Social Care program uses digital technologies like Facebook, Skype, FaceTime, email, and more to keep seniors in Alexander, Benton, Bryant, Mabelvale, and the rest of Arkansas in touch with friends, family, and neighbors.
How Digital Tools in Our Companion Services Help Seniors in Benton, AR, and the Surrounding Areas
Did you know that:
Surfing the web can reduce depression in elderly adults by 20 percent.*
Seniors who use Facebook and other social networking platforms showed a 25 percent improvement in mental "updating" skills - essentially improving their working memory.**
Seniors who use Facebook also have a positive emotional experience when measured by breathing rates, brain stimulation, and pupil dilation.***
Age-related learning difficulties may make adopting a digital social life more difficult for elderly residents in the Benton area. Some people may forget their email or Facebook Messenger passwords or have problems remembering how to utilize such services. Some people may have difficulty texting their loved ones because they have issues navigating the touchscreen on their smartphones. Your loved one may get assistance from a trained caregiver in learning how to utilize these modern platforms and applications, thanks to the companion services offered by Visiting Angels of Benton.
What Does the Social Care Program from Visiting Angels Offer?
With the Social Care program from Visiting Angels of Benton, your loved one can receive help with:
Using a cell phone
Texting, sending e-mail, Skyping, or using FaceTime
Creating a Facebook page/account and interacting with family and friends
Logging in, shopping online, or researching information on a search engine
Visiting Angels provides in-home companion services for seniors in the Benton area in a more individualized manner than any other local home care agency. That's why we'll work with you to tailor a senior care plan to your loved one's needs and preferences, including when they're available for in-home care. Our senior care providers are available around the clock to assist your loved one with everything from setting up a social media account to facilitating an evening FaceTime chat with family members before bedtime. By assisting with everyday activities and encouraging meaningful connections with loved ones, we want to make aging in place a rewarding and joyful experience for seniors in Alexander, Benton, Bryant, Mabelvale, and surrounding areas.
Choose Visiting Angels of Benton for reliable in-home companion services for your elderly loved one.
Contact our Benton, AR, office to schedule a free in-home consultation today!


* Washington, D.C. based Phoenix Center
**University of Arizona
*** Journal Cyberpsychology, Behavior, and Social Networking
Serving Alexander, Benton, Bryant, Mabelvale and Surrounding Areas
Visiting Angels
BENTON, AR
17724 Interstate 30 Suite 4 Office 14
Benton, AR 72019
Phone: 501-321-4900