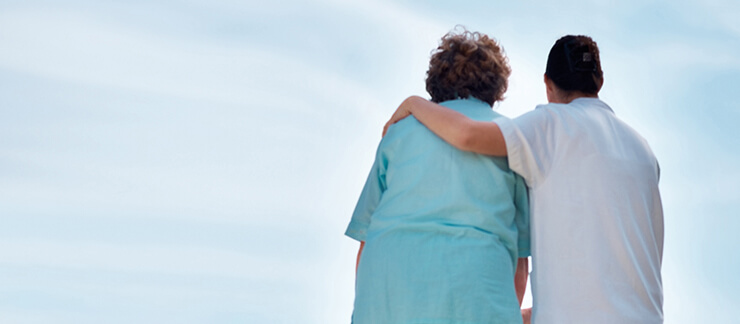 How to Plan the Right In-Home Senior Care Experience
Hiring a professional in-home caregiver for your loved one is a big decision. You want the experience to go smoothly and expect the caregiver to be responsible, respectful, and compassionate. Ultimately, you want them to provide the best possible in-home assistance for your loved one.
Visiting Angels understands the importance of personalized, stress-free senior care. A positive experience can happen from proper planning and the best home care provider.
6 Strategies to Select the Best Senior Care

If you are in the beginning stages of selecting an in-home caregiver, the following six strategies can help reduce anxiety during the process:
Think Positively
It can feel uneasy allowing someone else to care for a loved one, and it's natural to wonder if the arrangement will work. If you want the experience to be successful, you need to think positively. Trust you are hiring a qualified professional who will keep your loved one safe and comfortable at home.


Provide Important Information
Your caregiver will need time to learn the nuances of your loved one's home, and understand their requirements — such as what they like to eat, where supplies are located, and how they go about their regular routines. Write down your loved one's habits and preferences for the caregiver, who will use the list to anticipate your loved one's needs.


Give It a Chance
Like any new relationship, there will be bumps in the road. Visiting Angels' caregivers understand that building trust takes time and effort. They are trained to respect privacy while easing into their caregiving role. However, it isn't uncommon for an elderly loved one to take several weeks to become entirely comfortable with a caregiver.


Communication is Key
Open communication is essential for any caregiver-client relationship. You can offer valuable feedback to help your caregiver do an outstanding job. You should also welcome and encourage their questions and concerns.


Accept a New 'Teammate'
Seniors can feel threatened to accept help, especially if they have been doing specific tasks independently for a long time. Encourage them to think of a caregiver as a teammate or an added layer of support that won't take away their independence.


Get the Whole Family Involved
Let the whole family become acquainted with a professional caregiver and welcome them into the "family." For example, invite the caregiver to join a family picnic or a birthday party to get to know them better personally.
Visiting Angels Can Help With The Home Care Planning Process
Following these steps — and hiring an established home care provider like Visiting Angels — can ease the transition for everyone involved.
Contact us today for more information.