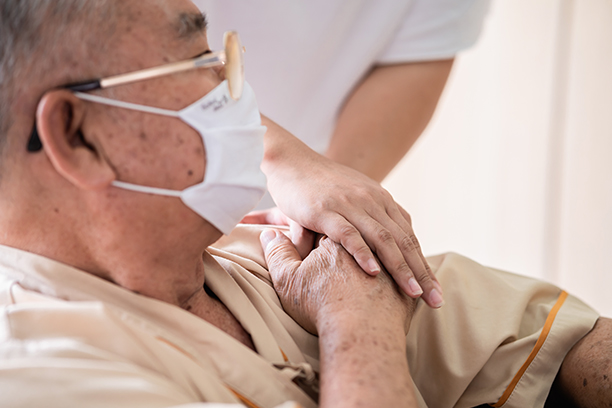 Certified Palliative Care in West Hollywood, Los Angeles, CA, and the Surrounding Area
Visiting Angels Offers Certified Palliative Care That Helps Clients with Diverse Needs in West Hollywood, Los Angeles, Beverly Hills, and Nearby Cities
When an aging loved one is diagnosed with a severe or chronic illness, many family members fear the worst. At Visiting Angels West Hollywood, we know there is nothing more important than your family and their well-being. Seniors facing harsh medical conditions can benefit from integrating palliative care techniques into their care plans. If you are concerned that an aging loved one's quality of life may be decreasing, Visiting Angels Los Angeles/Beverly Hills could be the answer.
Palliative Versus Hospice Care
Many of us have only heard of palliative care in the context of hospice care services. We tend to associate palliative care techniques with how we care for clients at the end of their lives. This type of care can help clients in any age bracket and with a wide variety of health conditions. Using palliative techniques helps caregivers and clients focus on pain reduction and increasing their quality of life overall. A holistic approach to care can help seniors with diverse needs, no matter their life expectancy. Our one-on-one care plans often cover the following needs:
Physical Health -

looking after chronic conditions, mobility assistance, fall prevention and helping seniors with other physical ailments.

Emotional Health -

our caregivers are companions at heart; they will be there for your loved one as a shoulder to lean on.

Social Health -

our social services can take your loved one to outings, events, grab a bite to eat, and enjoy their company at a park.

Spiritual Health -

our agency is happy to take your loved ones to religious spaces to practice their faith.
Our One-on-One Care Plans
At Visiting Angels Los Angeles/Beverly Hills, our mission is to provide the best possible quality of life for our clients. We do this by providing a comprehensive range of home care services and maintaining a team of expert caregivers who understand various care methods and care needs to serve your loved ones best. We will work with your loved one, you, and your family to create a care plan that's fully customized to your loved one's needs.
Another aspect of care often overlooked in senior care plans is emotional, social, and spiritual needs. It is easy to get caught up in fulfilling the needs of good physical health, whether that's because we are helping your loved one manage a chronic condition or helping your loved one heal from surgery or hospitalization. A care plan that incorporates social opportunities, the spiritual support of your loved one's choice, companionship, and emotional care can be beneficial if your loved one is faced with challenging health, mobility, or ability circumstances.
Schedule Your Free, In-Home Assessment
Depression, anxiety, and loneliness can be symptoms of seniors who live alone. With palliative care techniques from our agency, you can make sure that your loved one in Los Angeles, Beverly Hills, West Hollywood, or the surrounding area has the support they need to make the most of their golden years. Contact our home care agency today to learn more about our senior home care services.
Serving West Hollywood, Los Angeles, Beverly Hills, Mar Vista, Culver Garden, Rancho Park, Cheviot Hills, Beverlywood, and Surrounding Areas
Visiting Angels WEST HOLLYWOOD, CA
8265 W Sunset Blvd #101
West Hollywood, CA 90046
Phone: 323-512-4357