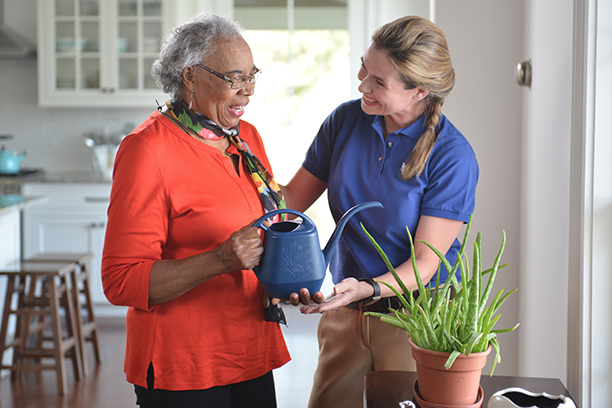 In Home Care in Hoover
This year has proved social isolation can be difficult on anyone. But it can take a particular toll on seniors. At Visiting Angels® Birmingham, we're keenly aware of the risks associated with loneliness. Our in home care services bring emotional and physical support to seniors in Hoover. That's true if seniors are living alone, with family, or in hospice care.
The physical and mental health effects of loneliness have been extensively documented for all ages. For our older family members, these issues can be particularly hard to recover from. Our care services introduce companionship and compassion to isolated seniors. Here's how we can support your loved one.
3 Ways That Loneliness Can Affect Your Loved One
Prolonged loneliness can affect everyone differently, but it does have an impact over time. If you have an older relative who's grappling with social isolation, it's important to know how it can affect them, and how we can help:
Heightened anxiety or stress. When people don't have social activity, they can be more susceptible to anxiety, stress, and other difficult emotions. In turn, these can contribute to higher blood pressure and other health concerns. Having a compassionate, supportive caregiver in place can help to ensure your loved one has social contact from a trusted source. We provide comfort, easing these tough times.
Disruptions in regular routines. Loneliness can be a significant contributor to a disruption of routines. When seniors are lonely, they're more likely to sleep longer, neglect food, or otherwise forego necessities. By creating a schedule of regular visits, we can reinstate healthier habits for the seniors we support in Hoover. Our in home care services can be adapted to increase or decrease frequency as needed.
A decline in overall cognition. A serious health risk associated with long-term loneliness is increased confusion or cognitive decline. We help seniors stay alert and engaged. Our caregivers are friendly and outgoing, chatting with clients and helping them participate in mentally stimulating activities. We can even help them navigate technology, so it's easier for them to call or video-conference with family.
Our Trusted In Home Care for Hoover Area Seniors
At Visiting Angels Birmingham, our in home care professionals are especially considerate to the needs of our clients. Caregivers have even received specialized training, such as hospice protocol training, to ensure we can ideally support seniors in:
Hoover
Calera
Pelham
Bessemer
Clanton
Helena
Vestavia Hills
Birmingham
Alabaster
Homewood
Mt. Brook
Bluff Park
And throughout the surrounding area
Are you worried about a socially isolated family member in Hoover? Call Visiting Angels Birmingham to schedule trusted in home care.
Serving the Birmingham Metroplex Area
Visiting Angels BIRMINGHAM, ALABAMA
400 Vestavia Pkwy #260
Birmingham, AL 35216
Phone: 205-979-7400