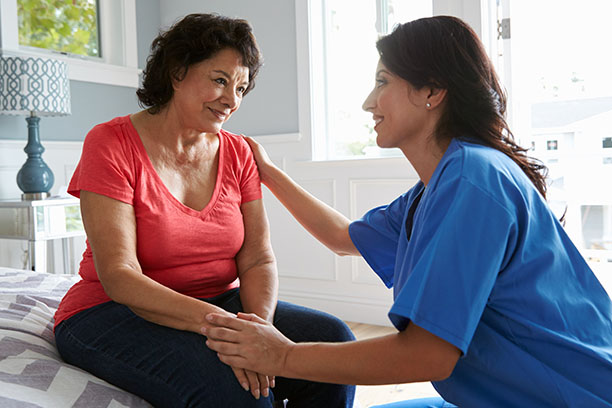 Dementia Care in Bismark
When dementia strikes, it sends obstacles hurtling into the path of not only the affected senior, but of their loved ones as well. Family caregivers can find themselves struggling to keep up with the mounting demands of their relative's care. Without help, it's easy to fall behind, leaving both you and your loved one open to accidents and exhaustion. Visiting Angels® Bismark can help. Our dementia care services are flexible, affordable, and second-to-none. Our caregivers in Bismark and Mandan deliver exceptional services and support to seniors and their families so that they can continue to live at home with confidence.
Top-Quality Dementia Care in Bismark
The symptoms of dementia impact each senior a little differently. That's why Visiting Angels Bismark developed our dementia care strategies in partnership with the Alzheimer's Foundation of America to ensure that they were tailored to the unique demands of the disease. But how can you recognize the need for dementia care in your loved one? While the first step is always to consult with their physician, there are some signs you can look for to indicate it may be time to seek additional help.
It may be time for dementia care from Visiting Angels Bismark if your loved one:
Is having trouble recalling times, dates, and appointments
Is struggling to find words or phrases in everyday speech
Has become lost or disoriented in their home or other familiar places
Is forgetting the steps to simple tasks like washing or dressing
Is experiencing anxiety, paranoia, or social withdrawal
Having a dementia caregiver on hand to provide skilled and compassionate assistance can help to create a stable and calming environment for your loved one in Bismark. It can also help them to avoid household mishaps like missed medications, misplaced items, and more. With their caregiver by their side, your loved one can continue to live independently at home, without the risk.
Learning More About Dementia Care
Receiving a diagnosis of Alzheimer's or dementia is extremely emotional and difficult for any family, so we make getting answers easy. When you call Visiting Angels Bismark, one of our expert caregivers will visit with you at home to walk you through our dementia care services and discuss any concerns you may have. There's no obligation at all, just an opportunity for you to learn about your options.
Getting started is easy and free. Just call Visiting Angels Bismark today to book your free, in-home dementia care consultation today.
Serving Bismarck & Mandan
Visiting Angels
BISMARCK, ND
1102 S Washington St #311
Bismarck, ND 58504
Phone: 701-250-1800
Fax: 701-751-2715