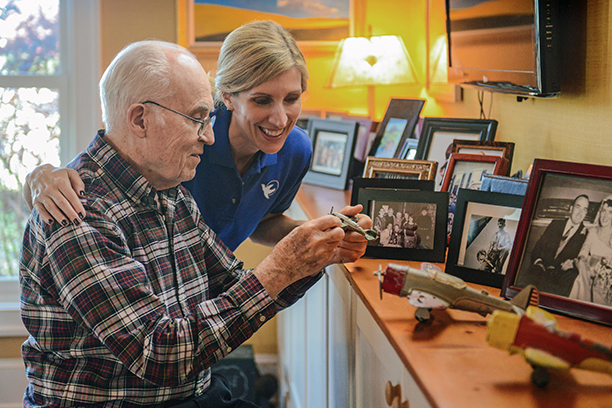 How Transitional Care in Bismarck Reduces Hospital Readmissions
Ready-Set-Go Home with Transitional Care
As much as your loved one may look forward to leaving the hospital, they may not be ready to look after themselves at home. Arranging for a transitional care provider in Bismarck to assist them with their daily needs can help facilitate a smooth recovery and prevent the occurrence of a hospital readmission. At Visiting Angels® Bismarck, we have detailed knowledge of the challenges that await seniors when they are discharged from the hospital. With the care provided through our Ready-Set-Go Home program, we make certain these individuals have a helping hand during the crucial post-discharge period.
What Causes Readmissions in Bismarck?
You may be wondering about your loved one's chances of avoiding a hospital readmission. Medicare has reported that beneficiaries have a one in five chance of being rehospitalized within the 30-day window following discharge. This statistic shows how crucial it is to be proactive about minimizing the risk of readmission.
The month following a hospital stay can be a difficult time for elderly adults. They could lack their normal energy or be dealing with mobility limitations. These factors, along with other serious issues such as cognitive decline or memory disorders, can contribute to risky behaviors such as mismanaging medications, skipping follow-up appointments, or generally neglecting their overall health. Complications that require a hospital stay are thus a common result.
How Our Transitional Care Program Helps
Ready-Set-Go Home was designed with seniors and their families in mind. We understand how overwhelming it can feel when a loved one is in the hospital. Transitional care can provide the guidance you're looking for and the support your loved one requires.
We follow a three-prong approach with our transitional care services for the Bismark area:
Help with discharge planning. Families in need of a helping hand with the preparation process can benefit from the resources our care coordinators offer.
Compassionate care at home. We design personalized service plans to accommodate each care recipient's unique needs after their discharge.
Support from our care agency. The staff at our local office in the Bismarck area are available to help facilitate care, coordinate deliveries, and organize important reminders.
With so much at stake, it's important to take the initiative to help a loved one minimize their readmission risk. Call Visiting Angels Bismarck to learn more about transitional care with a no-cost consultation in Bismarck, Fort Rice, Lincoln, Hanover, Huff, Judson, Mandan, New Salem, St Anthony, or a town in the vicinity.
Serving Bismarck & Mandan
Visiting Angels
BISMARCK, NORTH DAKOTA
1102 S Washington St #311
Bismarck, ND 58504
Phone: 701-250-1800
Fax: 701-751-2715