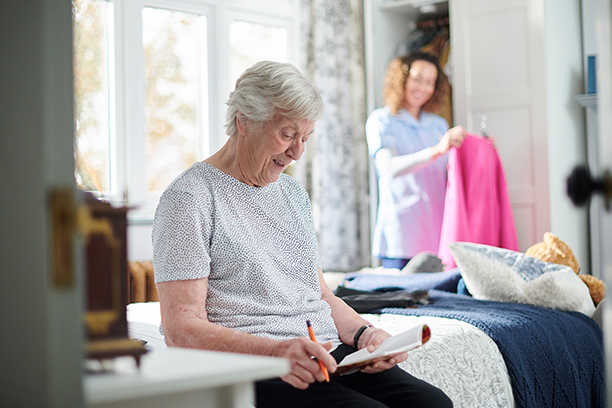 Social Care Program for Seniors in Bradenton, FL
Visiting Angels offers companion home care options to seniors in Bradenton, FL, to help them stay connected with loved ones through digital platforms through our Social Care program
There is a mistake that many individuals make when thinking about care for seniors. Most often, senior care is reduced to basic assistance with physical tasks that an older adult is no longer able to take care of on their own. However, proper care for elderly adults should include after everything an older adult needs to live independently without ever compromising their safety. This includes companion care, which Visiting Angels provides in Bradenton, FL. We offer many companion home care options, including our Social Care program. With this program, we refer independent caregivers who help seniors in the Bradenton and surrounding communities communicate with loved ones through social media and other digital tools.
Overall, Visiting Angels Bradenton takes a holistic approach to caregiving. This means that we refer caregivers who look after your loved one's physical needs, help them stay active socially and work with them to meet their emotional needs. We believe that a senior that achieves a balance in their life has a much better shot at making the most of their golden years. That's why through our Social Care program, we refer a caregiver from our independent network of senior care experts to help your loved one learn how to use digital tools like social media, search engines and more.
Quality Companion Home Care Options from Visiting Angels Bradenton
Companionship is an important part of caregiving. It is our goal to always become companions of the seniors we care for. We provide seniors with conversation and companionship as this helps them battle loneliness, isolation and, in some cases, even depression. Many seniors are dealing with having recently lost a lifetime partner or the loss of close friends and family members. For these seniors, it may be difficult to find the strength to stay active as things may start feeling as though they lack purpose. We can help seniors get through these challenging times and our companion home care options make a major difference.
In addition to this, our referred caregivers help seniors stay in touch with family members in a number of ways. As part of our Social Care program, we refer professionals who help seniors take advantage of modern technology to keep in touch with family and friends.
Our Social Care program includes:
Teaching seniors how to use platforms and social networks like Facebook, Instagram, Skype and FaceTime to help them stay active and engaged
Helping seniors learn to use a cell phone, send text messages and e-mails and make phone calls on Skype or FaceTime
Help seniors create a Facebook profile
Teach seniors how to shop online, do Internet research and just about anything else technology-related
To find out more about companion home care options in Bradenton, FL, please give us a call today!
Because of this program, I was able to experience two of the greatest joys in life – becoming a grandmother and seeing my son become a new father. Skyping and Facebooking with my son and his family are now a normal part of my life. It helps me feel like I'm still an important part of their lives even though I'm miles and miles away.

Serving Bradenton, Bradenton Beach, Bayshore Gardens, Ellenton, Lakewood Ranch, Longboat Key, Palmetto, Parrish and Surrounding Areas
Visiting Angels BRADENTON, FL
4814 26th Street West #A
Bradenton, FL 34207
Phone: 941-758-4500
941-758-4505
NR3021171