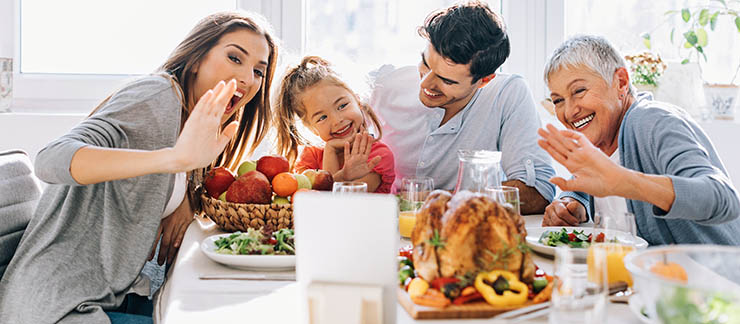 How to Celebrate the Holidays With Seniors During COVID-19
Many around the country are struggling with how to safely celebrate with family and friends – especially senior loved ones – during the holidays this year. While the COVID-19 pandemic has forced older adults to self-isolate and limit contact with others for months, it's no surprise seniors are more eager than ever to interact with the people they love this holiday season.
Unfortunately, the coronavirus must be a major consideration when deciding how your family will interact. The fear of including your elderly loved ones may be heightened this year since the risk for severe illnesses and health complications from COVID-19 increases with age.
5 Questions to Assess Your Senior's COVID-19 Risk this Holiday Season
In order to help you make a safe plan for your elderly loved ones, here are some tips on assessing COVID-19 risk during the holidays:
1. What is the level of COVID-19 in the community?

Before attending or hosting a holiday event, consider the number of cases and spread of COVID-19 in your community. If it's in an area where there are many cases, the risk to your senior loved ones will be much higher. Also, the COVID-19 risk is heightened if people coming to your get-together are from communities with a reported high number of cases.

2. What type of venue will the gathering take place in?

Gatherings are usually less risky outdoors than indoors. However, depending on the climate where you live, an outdoor venue may not be possible.

If the gathering will be held indoors, consider the type of ventilation that will be available. Places with good ventilation, such as open windows or doors, have a lower risk than ones with poor ventilation.

"Virtual attendance" is another option. While it may not be ideal for everyone, it can help the family see and hear each other while eliminating your senior's risk of contracting COVID-19.

3. Howmany people will be there and how long will it last?

As the number of people at a gathering increases, the risk of catching COVID-19 rises. Also, the longer the get-together lasts, the chances of catching COVID-19 become higher.

Be sure to follow your community COVID-19 guidelines on the number of people that are allowed to gather in one place.

4. Have attendees been practicing safety measures? Will attendees act safely at the gathering?

Although there is no way to 100% guarantee eliminating all COVID-19 risks during gatherings, there are many personal choices you can make to help such as:
Wearing masks over mouths and noses
Staying six feet apart
Frequently washing hands with soap and water
Cleaning and disinfecting frequently touched surfaces
Before attending or hosting a gathering, ask if guests have been following these precautionary measures. Also, ask if they will be willing and able to continue following these precautions at the event.
If attendees have not been following these guidelines or indicate they won't during the gathering, the risk of COVID-19 spreading will be higher. Finally, make sure no one who is attending has COVID-19 symptoms or has been recently exposed to someone who has COVID-19.
5. How vulnerable are your elderly loved ones to serious complications from COVID-19?
Consider the personal risk your elderly loved ones face if they contract COVID-19, especially if they have underlying medical conditions, such as heart disease or diabetes.
According to the U.S. Centers for Disease Control and Prevention (CDC), individuals who are highly vulnerable to COVID-19 complications should avoid attending any in-person gatherings.
The answer to these questions will help you develop a plan to protect your senior loved ones and safely celebrate the holidays.
If you need additional care assistance for a senior this holiday season, Visiting Angels caregivers are here for you. Our Visiting Angels care coordinators will discuss your loved one's needs during a free home care consultation.