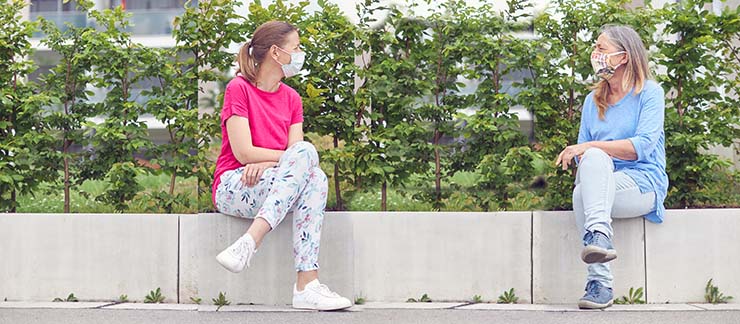 When Seniors Want to Social Distance — and Others Don't
After months of following public health recommendations to reduce the risk of spreading the coronavirus, some people are becoming less vigilant about social distancing. This "quarantine fatigue" presents a problem for older adults who want to social distance because they're at a higher risk of developing complications from COVID-19. It also causes stress for caregivers who want to take steps to protect seniors from the coronavirus.
Here are a few suggestions to help when your senior loved ones want to social distance and others refuse:
Establish a COVID-19 Safety Plan
Set firm limits about what activities are safe for your older loved ones and what activities they should avoid. If you're not sure about what activities might be appropriate, consult a physician for professional health advice to develop a social distancing plan. For example, a COVID-19 safety plan may include:
No indoor visits from family or friends
Maintaining six feet of physical distance between themselves and non-caregivers at all times
Wearing a mask when they have visitors, even when outdoors and keeping a six-foot distance
No sharing food or drinks with anyone
After you have a social distancing plan in place, share it with your senior loved ones' family, friends, neighbors, and caregivers to make sure everyone is on the same page.
Establish a Social Care Strategy
Work with your older loved one's caregiver and plan opportunities to socialize, stay active, and cope with social distancing during the pandemic. Visiting Angels has a Social Care program that helps seniors use and understand social media, smartphones, and other technologies to easily connect with loved ones.
A social care strategy may put family and friends at ease and make them more willing to adhere to the limits established in your loved one's social distancing safety plan.
Be Honest About Your Concerns
When it comes to protecting your older loved one, honesty is the best policy. If family or friends want to visit, and you are uncomfortable about the risk of COVID-19 infection, share your concerns with them in a respectful, non-judgmental way. Using "I" statements, such as "I worry that an indoor visit with grandma may increase the chances she will get sick," may promote positive-but-assertive communication. If family members and friends care about your loved one as much as you, they will understand your concerns.
Offer Alternate Suggestions for Socializing
If in-person visits or other activities are not possible, suggest other ways family and friends can connect with your older loved one. Make sure you let them know you want to do everything you can to ensure they safely stay in touch with your senior loved one.
Enforcing limits regarding your older loved one's contact with others may make you feel like the "social distancing police," but these recommendations can make things more manageable and easier on friends and family.
A qualified in-home caregiver can help your older loved one adjust to a "new normal," maintain a routine, and prevent COVID-19 infection. Our Visiting Angels care coordinators are available to discuss your loved one's needs during a free care consultation.