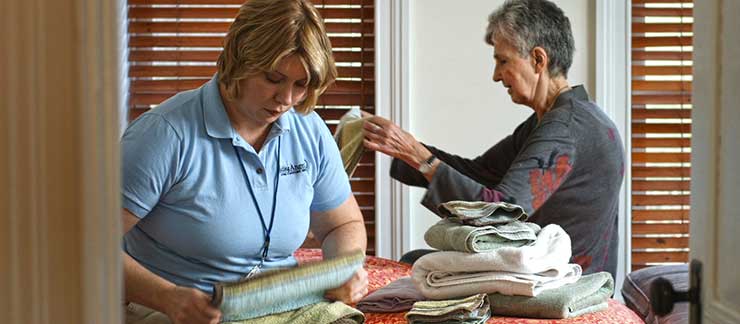 Performing a Home Care Assessment
If you're thinking about starting home care for an older adult, a home care assessment is an essential first step. At Visiting Angels, a care coordinator will meet with you and your loved one to discuss your care requirements.
You may be overwhelmed by the variety of senior care options available. Anxiety can increase if a loved one has immediate personal care needs. However, an assessment and home care consultation can help ease any trepidations.
Why Do You Need a Home Care Assessment?
A home care assessment is conducted with your loved one's needs, abilities, and safety in mind, and may include the following:
A walk-through around the home to look for safety hazards and fall risks
A discussion about how to optimize the home for maximum safety
Creating a care plan that outlines the schedule and services provided
A detailed care plan provides a "road map" that outlines when and how a caregiver will perform specific tasks for your loved one.
When is a Home Care Assessment Performed?
A Visiting Angels' assessment typically occurs after a no-cost, no-obligation home care consultation. During the initial consultation, your loved one and family members will meet with a care coordinator at your loved one's home.
The initial consultation details the services Visiting Angels provides. Topics for discussion may include:
Physical care needs, such as bathing, grooming, dressing, meals, and mobility
Emotional care needs, such as social interaction, activities, hobbies, and conversation
Schedule, including when your loved one would benefit from having a caregiver in the home
Assistance with daily activities, such as light housework, groceries, laundry, and meal preparation
Logistics, such as how to access the home, documentation, and other administrative details
Preferences, such as favorite music, activities, foods, goals, and expectations
During the initial consultation, if you want to start in-home services as soon as possible, the coordinator may perform a home care assessment during the same home visit.
However, it is common for families to take some time to decide whether home care is the right choice. You can always reach out to Visiting Angels when you are ready and schedule a home care assessment at a later date.
How Can You Prepare for a Home Care Assessment?
Be willing to have an honest discussion about your loved one's abilities, safety, home environment, and care expectations. Prepare a list of questions important to you and your loved one, and keep it nearby during the assessment.
Visiting Angels' care coordinators are skilled at discussing delicate personal care concerns in a dignified and respectful way. They can provide a wealth of information and resources to improve your loved one's safety, quality of life, and well-being.
Contact Visiting Angels
A home care assessment may sound intimidating, but it ensures your loved one's environment is safe and that everyone is on the same page regarding their care. If you think in-home personal care might be the best choice, contact your nearest Visiting Angels' home care agency today.